Tiramisu speculoos is not your average treat; it's rather a delicious twist on the classic recipe. This simple-to-make yet so delightful speculoos treat might easily become one of your favorite desserts.
You must have heard of the famous Italian tiramisu dessert with sponge cookies that everyone adores so much! But guess what? Speculoos tiramisu tastes even better.
Just imagine a layer of velvety mascarpone cream and, in between, the rich, coffee-soaked, and spiced allure of Belgian speculoos cookies, all coming together in a symphony of flavors.
It's time to wrap your apron and join us on a journey where Italian sophistication meets Belgian charm in a heavenly dance of sweetness and delight!
Jump to Recipe
What the heck is tiramisu Speculoos
Tiramisu, the iconic Italian dessert, traces its roots back to the 1960s in the Veneto region of Italy. A dessert made with coffee got the name "Tiramisu" which means "pick me up" in Italian. This actually perfectly describes the energizing and comforting nature of this dessert.
Then Giulia went to Belgium and met Jan… Nah, not really.
The delicious blend of tiramisu and Speculoos was probably born when food lovers wanted to add a fresh spin to the traditional tiramisu. The addition of Speculoos cookies, with their delightful aroma and taste, resulted in a delicious combination that has obviously won over thousands of Tiramisu fans from all corners of the globe.
Besides all the delicious mushroom dishes, focaccia bread, pizzette and flavorful pasta, this tiramisu is another great culinary invention of the Italian kitchen.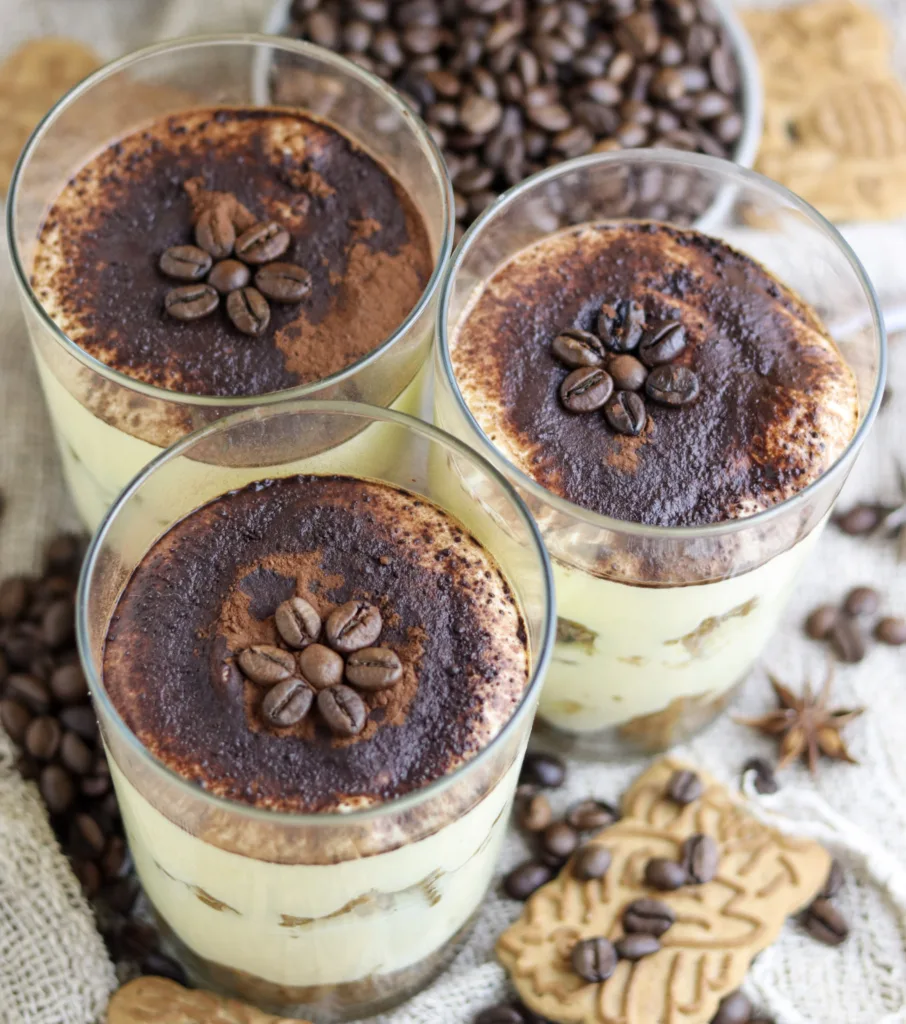 Tiramisu speculoos vs. biscoff tiramisu
You might be wondering, are speculoos cookies the same as Biscoff?
Well, almost.
Speculoos, also known as Speculaas in some regions and Speculatius in Germany is a perfect blend of cinnamon, nutmeg, and ginger combined in a delicious cookie.
According to legend, Speculoos cookies were first created in the Middle Ages. They were typically made in elaborate and artistic molds depicting seasonal figures or folk tales. These cookies were reserved for special occasions and festivals and added a little-bit-of-magic element to the festivities.
The journey of Biscoff toward worldwide fame started in the 1930s when a creative baker named Jan Boone began a bakery in Lembeke, Belgium. Initially called "Lotus Speculoos," Jans biscuits gained a lot of popularity in Europe. However, it was during the 1980s when Biscoff made its way to America and won the hearts of Americans, becoming a cherished treat on both sides of the ocean.
While Speculoos cookies are usually spiced with cinnamon, nutmeg, and ginger, Biscoff is known for its rich, caramelized taste and offers a sweeter experience.
And which ones are better for tiramisu, you'll ask? The answer is both!
Why this recipe works and why you'll love it
We tried and tested a recipe for tiramisu speculoos a few times, and this variation is the best you'll try. Your tiramisu will stand firm as a rock – this recipe is a fool-proof instruction to ensure it won't fall apart as it often happens.
It's easy to prepare, requires no baking, and takes only about 20 minutes to make it.
Tiramisu speculoos can be prepared in advance; the truth is, the more it sits in the refrigerator, the tastier it gets.
This recipe will leave exactly two dirty bowls, a blender and one dirty tablespoon behind. Because it's already prepared in glasses, you'll need to find your favorite teaspoon to eat it, and that's it. No messy kitchen, no pile of dirty dishes.
You can use the same recipe to make tiramisu with any cookies.
You can make it eggless, sugarless or vegan.
Tiramisu speculoos ingredients
SPECULOOS COOKIES – Speculoos cookies you can find in any supermarket around the EU. However, if you live in the US or elsewhere, opt for Lotus Biscoff cookies. With a little bit of engagement, you can make your own biscoff cookies at home.
The best thing about this recipe is that you can make this tiramisu with practically any kind of cookie. So if you don't have speculoos cookies at home, don't run to the shop because of them, use what you got.
MASCARPONE CHEESE – The original tiramisu recipe calls for mascarpone cheese. A good substitution for mascarpone can be cream cheese. Make sure your cheese is cold before mixing it with other ingredients.
EGGS – Eggs are separated into yolk and egg white and combined with mascarpone in the authentic Italian recipe. This is done with raw eggs.
However, if you don't like the idea of eating raw eggs, you can pasteurize the egg yolk by whisking it with sugar syrup heated to 120 C/248 F. In a smaller pot, bring to boil two tbsp of water and add sugar. Stir to completely dissolve the sugar and slowly add the mixture to a bowl with egg yolks. Instead of egg whites, you can use whipped cream.
COFFEE – When choosing coffee for Speculoos tiramisu, avoid all kinds of instant coffee; opt for quality black coffee or expresso coffee made in an expresso machine.
Tiramisu will taste best if you grind your coffee right before cooking. This way, it will preserve a much richer aroma. Make sure the coffee is cold before dipping your Speculoos cookies in it.
SUGAR – Sugar in the recipe can be replaced with a sweetener like erythritol or other. In fact, tiramisu with biscoff cookies won't require much sugar because the cookies themselves are already sweet.
COCOA POWDER – Cocoa powder adds a rich and decadent chocolate flavor to the tiramisu Speculoos recipe.
ORANGE ZEST – It's best to use organic oranges for the best quality. Wash and dry the oranges, then use a microplane zester or grater to extract the zest from the peel. Rotate the orange while zesting to get all the flavor.
Orange zest adds a burst of citrusy brightness, aromatic awe, zingy tang, and a hint of bittersweetness to dishes. Think of it as a tiny burst of sunshine.
RUM – A tablespoon of Marsala or rum comes from the original Italian recipe; however, if you don't like alcohol in your tiramisu, it will still taste great if you skip it.
WHIPPING CREAM (optional) – Although the authentic recipe doesn't call for whipping cream, we find that adding some on the top is not a bad idea. If you don't want to use raw eggs, whipping cream will be your substitute for egg whites.
Perfect tiramisu speculoos recipe
COOK THE COFFEE AND PREPARE THE CREAM
STEP 1: First, grind your coffee and cook it. Set aside and let it cool down to room temperature. If you are using rum, now is the time to stir it in the coffee.
STEP 2: Using a mixer, beat the egg whites until peaks form on the surface. While mixing the egg whites, keep adding half of the amount of sugar and whisk for another two or three minutes until a firm and shiny egg white mass is formed.
Add the other half of the sugar to the egg yolks and whisk until getting a light, fluffy pale yellow mixture.
STEP 3: Mix the mascarpone or cream cheese into the yolk mixture using a hand whisk or a spoon, adding it slowly, spoon by spoon. Then gently and slowly stir in the egg whites, again using a spoon or spatula.
Don't use the electric mixer for this step; the ingredients need to be stirred thoroughly in the mixture, but very gently. Finally, when done, stir in the mixture a teaspoon of orange zest and a tablespoon of rum or Marsala. Hint: It will still taste delicious if you make it alcohol-free.
ASSEMBLE THE TIRAMISU
STEP 4: At this point, you probably think you don't even need to read further; we all know how to make tiramisu. Now you just dip the cookies into coffee, assemble the tiramisu in a bowl, chill it in the fridge, and that's it, right? Wrong.
What's ironic about this tiramisu Speculoos recipe is that I made it three times. The first time I was thinking oh no, these cookies will be too wet if I dip them in the coffee; let's just skip the coffee, and it will turn out fine.
Well, it did. Somehow. But tiramisu ain't tiramisu without coffee. You can then call it cookies with cream, but that's not tiramisu Speculoos.
So the second time, I dipped the cookies into nicely smelling coffee, assembled it as usual when it comes to tiramisu, and there we go.
Wrong again. This is what happened: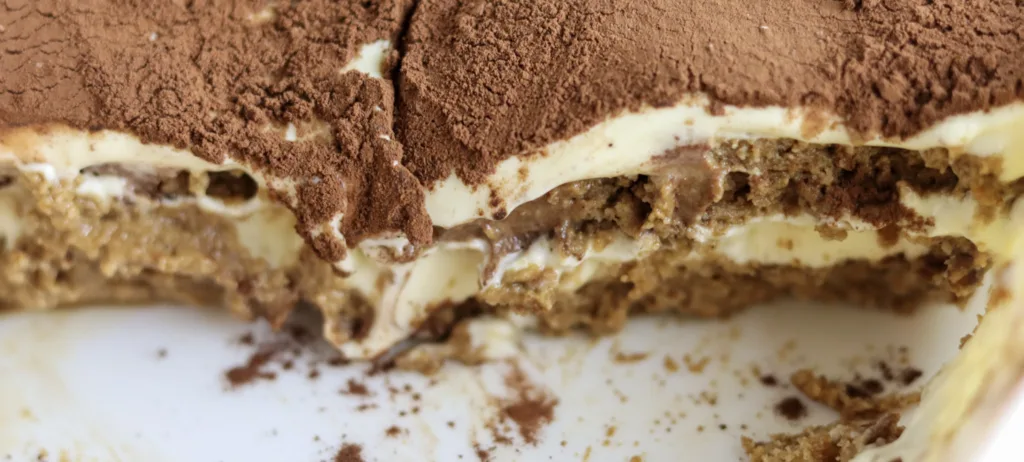 A very tasty but very sticky and wet cookie layer mixed with the cream. It was falling down in the middle because it had no solid structure.
So finally, in the third test, I figured it out. Here's how you do it:
Put half of the amount of cookies in a blender. Blend for a few seconds only. You don't want to have cookie powder; you want nice small chunks of cookies.
STEP 5: Put the blended cookies in a separate bowl and mix them with four tablespoons of coffee. What you'll get is a very wet and very soft mixture.
STEP 6: Now, quickly blend the other half of the Speculoos cookies. Again, you should get small pieces and not cookie powder.
Combine the coffee-soaked cookies together with the blended cookies. What you should get is a perfect, both soaked and still a crunchy mixture of Speculoos cookies.
STEP 7: It will be much easier to fill glasses or cups with tiramisu than making tiramisu in a pan. However, if you prefer, you can assemble the entire tiramisu in a single pan following the same procedure.
Load the cups or the pan with a layer of cookie mixture. Then continue with a layer of tiramisu cream.
Continue with another layer of cookies, followed by another layer of cream.
CHILL AND SERVE
STEP 8: Tiramisu tastes absolutely the best when chilled in the refrigerator for at least three hours or, even better, overnight.
Finally, sprinkle with cocoa powder and decorate.
STEP 9: Finally, when chilled, sprinkle with cocoa powder and decorate.
Bon Appetit!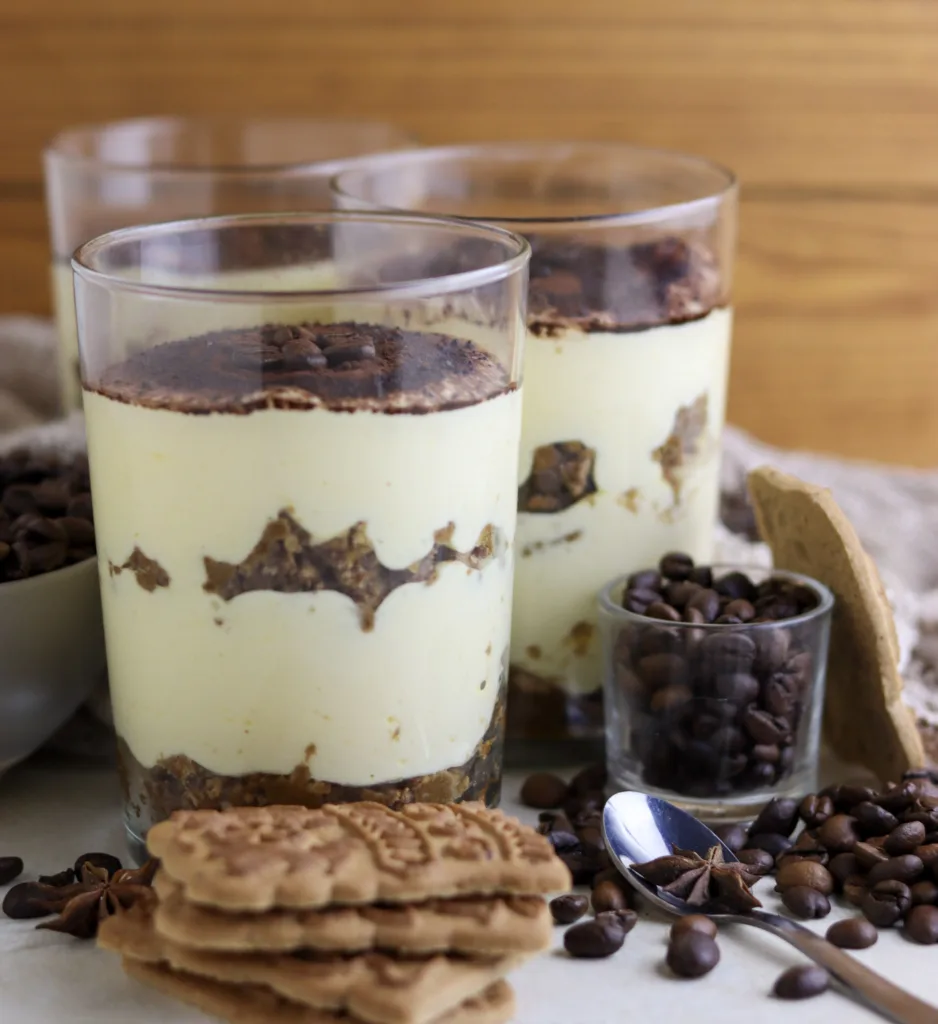 Tips for a perfect tiramisu Speculoos
For the best results, use high-quality coffee, cocoa powder, mascarpone cheese, and Speculoos cookies.
Separate the egg yolks and whites carefully. Make sure there's no trace of egg yolk in the whites. Whip the egg whites until stiff peaks form. This adds lightness to the tiramisu. Gently fold the whipped egg whites into the mascarpone mixture for a fluffy texture.
When whisking egg yolks and sugar, whisk until the mixture becomes pale, thick, and forms ribbons when lifted. This step is crucial for achieving a smooth and creamy texture.
It is important to fold the mascarpone cheese into the egg yolk mixture gently and in small batches to prevent overmixing and deflating the mixture.
Never serve tiramisu when it's made; it absolutely needs to be chilled before serving in the refrigerator for at least 4-6 hours, preferably overnight.
Dust cocoa powder on top just before serving to keep it fresh and prevent it from being absorbed into the cream.
Tiramisu is a dessert that rewards patience. The longer it chills, the better it tastes. So, plan ahead and give it the time it needs.
Substitutions and variations
If you cannot find mascarpone cheese, you can use a mixture of cream cheese and heavy whipping cream as a substitute. This substitution may result in a slightly different flavor and texture, but it can work very well.
If you're worried about using raw eggs, you can either pasteurize them before making the cream or use pasteurized liquid egg yolks instead. As a substitute for egg whites, whip up some aquafaba (the liquid from a can of chickpeas), but keep in mind that these substitutions might slightly alter the final texture and flavor.
If you prefer an alcohol-free version, you can skip the liqueur altogether or use a coffee-flavored extract to maintain the coffee flavor without the alcohol content.
Sugar can be completely replaced with erythritol or sweeteners like honey or maple syrup, but be aware that they may affect the texture and taste.
Instead of cocoa powder, use grated chocolate or even finely ground nuts like almonds or hazelnuts for a different topping.
Add flavor variations to the mascarpone cream by adding vanilla, almond or other extracts.
You could also add fruit purees or compotes between layers for a fruity twist of tiramisu Speculoos.
You can use the same procedure for assembling tiramisu with any kind of cookies. It will look great in glasses and also will stand firm when made in a pan.
How to store tiramisu Speculoos
Tiramisu Speculoos should be stored in the refrigerator all the time, before serving and after. If you leave it at room temperature, the cream might get too liquid and not as tasty as when chilled.
We recommend you keep it covered to avoid odors from the refrigerator from being absorbed into the dessert. This will also help to retain the freshness.
Tiramisu is best enjoyed within 2-3 days when being made. As time passes, the flavors blend together, and the texture may become more pleasant.
Although tiramisu Speculoos can be frozen, because of its delicate structure, we don't recommend doing so. If you really think you need to do it, cover the tiramisu tightly with plastic wrap and then with aluminum foil to prevent freezer burn. Thaw it in the refrigerator before serving.
Tiramisu Speculoos FAQs
Is Biscoff a Speculoos cookie?
Yes, Biscoff is a type of speculoos cookie.
Can I add Biscoff spread to the tiramisu?
Yes, if you want an even more intensive Speculoos (Biscoff) taste of the tiramisu you can add the spread, whether blended into the cream or as a separate layer between the cookies and the cream.
What's the difference between Charlotte cake and tiramisu?
Charlotte Cake has a mousse-like filling with ladyfinger or cake layers while tiramisu features layers of coffee-soaked cookies and creamy mascarpone mixture.
How much caffeine is in Tiramisu Speculoos?
While a classic tiramisu with ladyfinger cookies contains a moderate amount of caffeine, tiramisu Speculoos contains less caffeine because the cookie layer is not entirely soaked with coffee.
Can I get drunk on Tiramisu Speculoos?
Absolutely not. Tiramisu Speculoos contains only a small amount of alcohol. If you want an alcohol-free tiramisu you can simply skip the rum or Marsala that is usually a part of a classical tiramisu recipe.
More Food nutter's sweets
Blueberry chocolate cake (no bake)
Italian recipes you might like
Share by Email
Tiramisu Speculoos
Easy and fool proof recipe for a delicious tiramisu Speculoos
INGREDIENTS
0.9

lbs

Speculoos (Biscoff) cookies (400 g)

1.1

lbs

Mascarpone cheese or cream cheese (500 g)

0,5

lbs

heavy whipping cream (225 ml) (optional)

0,4

cups

sugar or sweetener (85 g)

3

eggs

1

tbsp

rum or Marsala (14 ml)

1

tsp

orange zest

1

tbsp

cocoa powder
INSTRUCTIONS
Make a cup of coffee. Set aside to cool to room temperature.

With the mixer in hand, start whipping the egg whites until you see peaks forming on the surface. While you're whisking away at those whites, gradually sprinkle in about half of the sugar and keep on whisking for another two to three minutes. You'll know it's ready when you've get a nice, sturdy, and glossy mass of egg whites.

Take the remaining half of the sugar and introduce it to the egg yolks. Give it a good whisking until you get a mixture that's looking all light, fluffy, and a beautiful pale yellow.

Mix the mascarpone or cream chese into the yolk mixture using a hand whisk or a spoon, adding it slowly, spoon by spoon. Then gently and slowly stir in the egg whites, again using a spoon or spatula.

Place half Speculoos cookies into the blender. Let them dance in there for just a few seconds – you don't want cookie powder but delightful little cookie chunks.

Put the blended cookies in a separate bowl and mix them with four tablespoons of coffee to get a wet and soft mixture of cookies and coffee.

Quickly blend the other half of Speculoos cookies into cookie chunks.

Mix those coffee-soaked cookies with the ones you've blended. The resultshould be a flawless combination of Speculoos cookies that are part heavenly soaked and part satisfyingly crunchy.

Load the glasses, cups or a pan with a layer of cookie mixture. Then continue with a layer of tiramisu cream.

Continue with another layer of cookies, followed by another layer of cream.

Chill in the refrigerator for at least four hours, preferably overnight.

Sprinkle with cocoa powder, decorate, serve and enjoy 🙂
NOTES
Ingredients: Use high-quality ingredients, preferably organic, free-range eggs. 
Egg yolk separation: Be scrupulous when separating egg yolks and whites. 
Egg whites: Whip the egg whites until stiff peaks form. 
Egg yolks: As you whisk the egg yolks and sugar together, keep at it until the mixture transforms into a pale, thick concoction that gracefully falls in ribbons when lifted.
Mascarpone: Gently and carefully incorporate the mascarpone cheese into the egg yolk mixture, working in small batches.
Chill before serving: Don't serve tiramisu right after it's made; it should be chilled before serving in the refrigerator for at least 4-6 hours, preferably overnight. The longer it chills, the better it tastes. 
Cocoa at the end: Sprinkle with cocoa powder right before serving.
Substitutions: Use a mixture of cream cheese and whipping cream instead of mascarpone. Pasteurize the eggs if you don't like the idea of eating raw eggs. 
Alcohol-free: Skip the rum for an alcohol-free version, and use chocolate powder instead of cocoa. 
Enrich it: Add biscoff spread or fruit purees between the layers of cookies and cream. 
Other cookies: Use the same recipe with the same procedure for making tiramisu with any cookies you got at hand. 
Nutrition
Serving:
1
cup
|
Calories:
696
kcal
|
Carbohydrates:
61.9
g
|
Protein:
81.1
g
|
Fat:
42.8
g
|
Saturated Fat:
24.3
g
|
Cholesterol:
179
mg
|
Sodium:
416
mg
|
Potassium:
169
mg
|
Fiber:
1.3
g
|
Sugar:
30.5
g
|
Calcium:
236
mg
|
Iron:
1
mg
Featured at
Did you make this tiramisu Speculoos? Please rate it in the comments below.
Share with love ❤️