Creamy mushroom rice is a quick and tasteful dish that can be prepared in half an hour. Indulge it with a fresh salad or a glass of good wine, the combination of mushrooms and rice will never disappoint you.
This dish is perfect for beautiful autumn days, or for any time you're looking for an impressive yet simple meal.
Porcini mushrooms, also known as boletes, add an incredible depth of flavor that elevates this dish above ordinary mushroom-rice recipes. It's a unique and flavorful combination like no other.
Jump to Recipe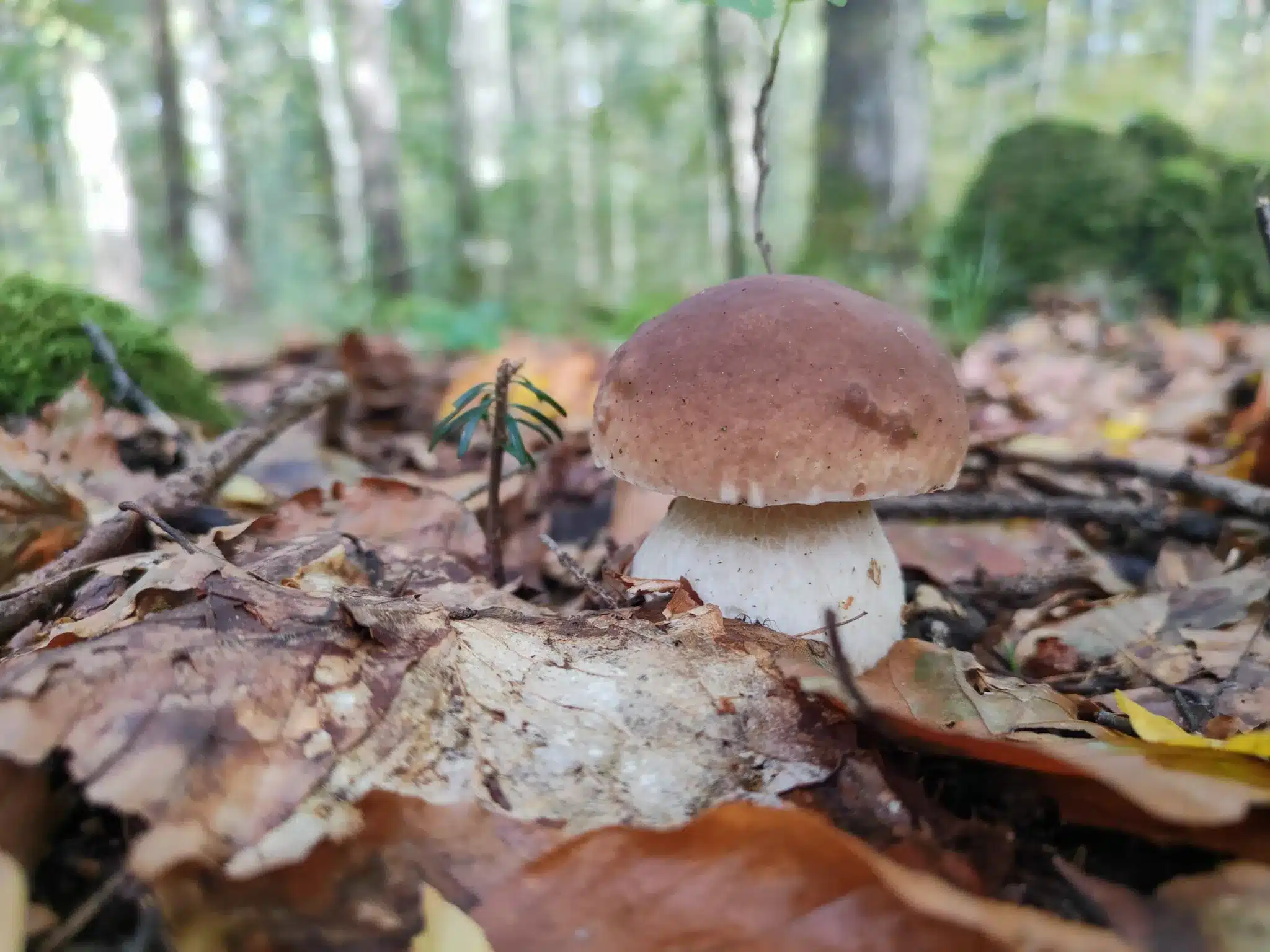 The porcini mushrooms (Boletus edulis) addiction
For the food-gathering people, there's nothing more addictive and joyful than hunting for porcini mushrooms.
Interestingly, the porcini mushroom is besides Bolete mushroom, King bolete, Cep, Penny bun bolete, Boleto and Steinpilz the most searched phrase for this tasty mushroom.
That must have come from the strange and quite extreme Italian addiction to the so-called funghi (mushrooms in Italian). Italians are nuts about mushrooms.
Bring an Italian to the forest, and he will come out with seven fully loaded sacks of mushrooms, and all you'll hear in between will be the "dio mio" screams .every two minutes.
Another remarkably interesting fact about these beauties is, that although many people have tried, there's no scientific proof that anyone ever succeeded in cultivating and growing porcini mushrooms. Sorry Italians. Prove me wrong if you can.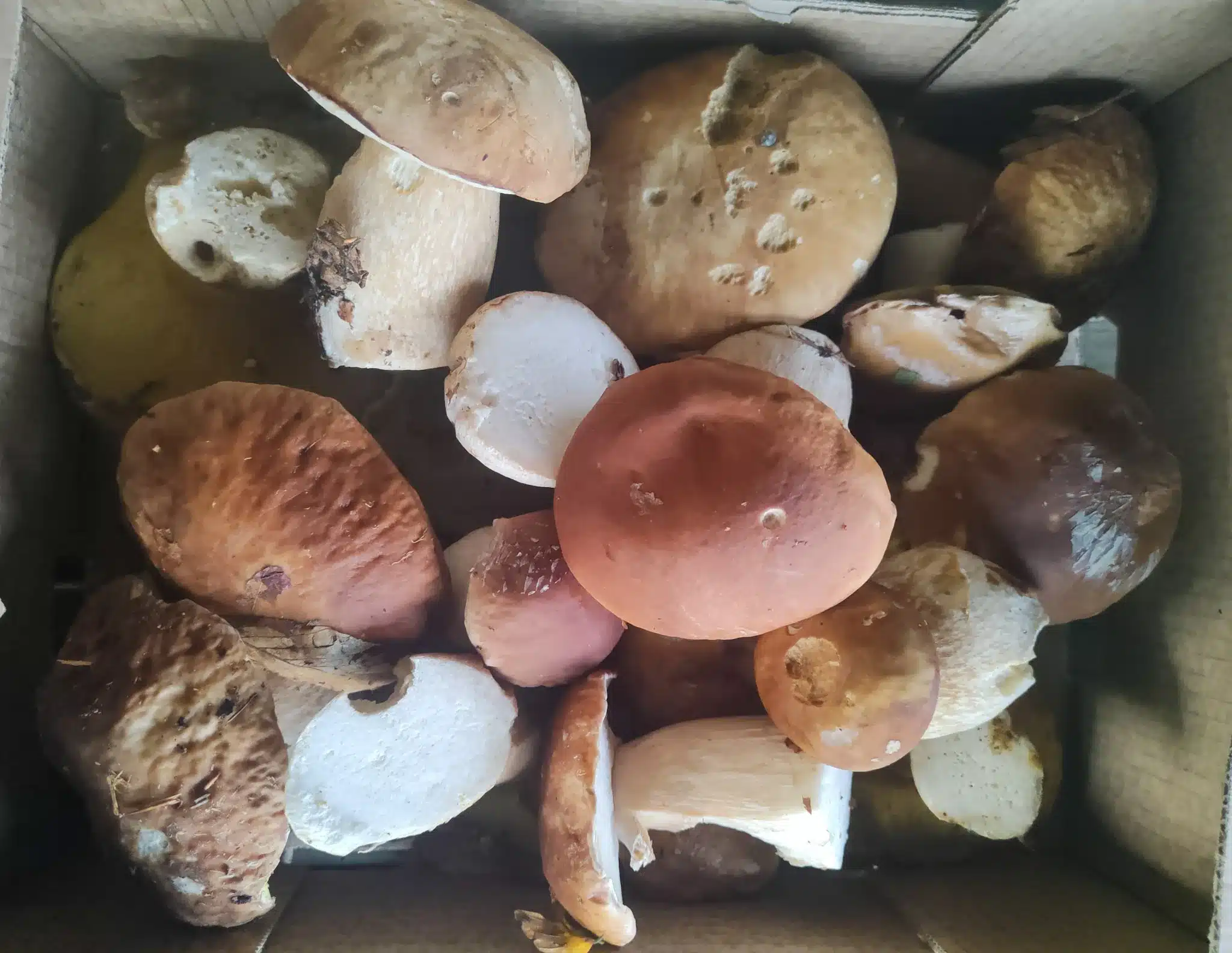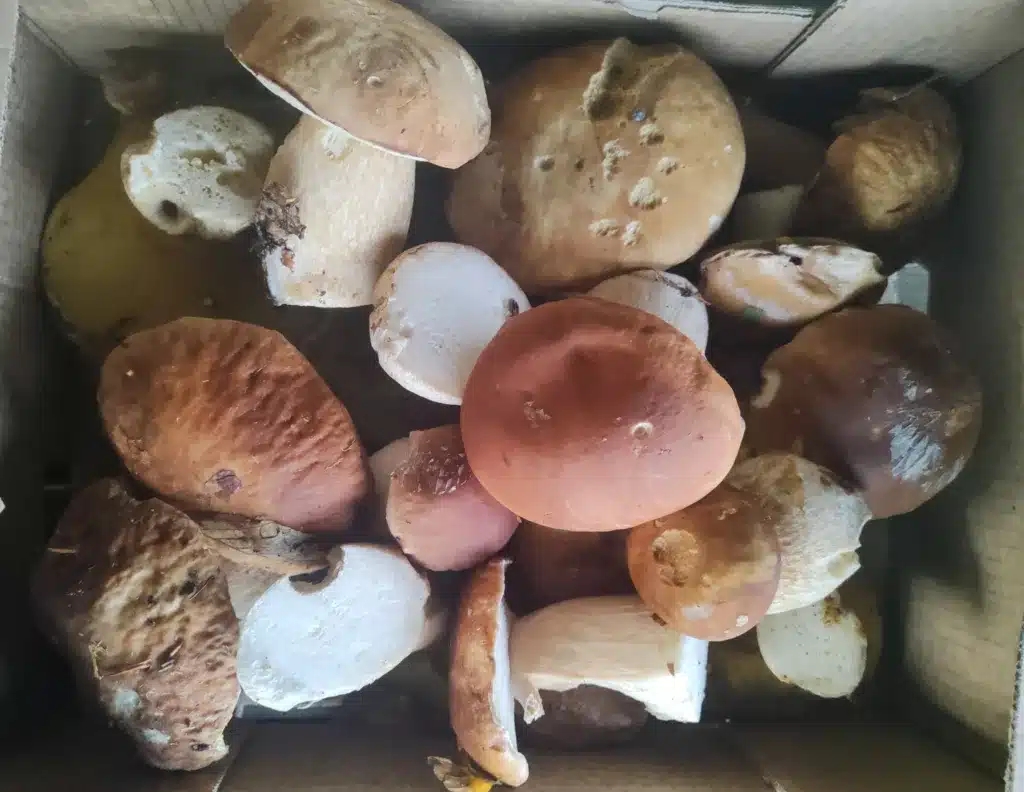 Where to find porcini mushrooms
Most likely you'll find porcini at higher elevations in the summer and usually after the autumn rainfalls in low-elevation forests.
They grow on preferably acidic soil and are a mycorrhizal species, Porcini mushrooms flourish in symbiotic love relationships with pine trees, spruce trees, silver firs, hemlocks, beech trees, oaks and chestnuts. The best way to find them is to have a good eye for the ideal habitat with the presence of these trees.
Creamy mushroom rice with porcini ingredients
🍄 PORCINI MUSHROOMS – We used freshly picked porcini mushrooms in this recipe. As you already know, the one thing a devoted forager won't ever do is reveal his favorite location of porcini mushrooms. That's usually a better-kept secret than oil deposit locations in the United States. So do not even try to ask. 🙃
You might want to check our recipes with fresh porcini mushrooms, like pizza with porcini mushrooms and tagliatelle ai funghi porcini.
🍚 RICE – Arborio rice is starchy and will absorb moisture perfectly. The result will be creamy mushroom rice with a hearty texture.
🧄 GARLIC – Garlic is an obligatory ingredient for this recipe. If you don't consider yourself a garlic fan, you can reduce the number of garlic cloves in the recipe, but do not skip it.
🧅 AN ONION – A sliced onion will add depth and a sweet and savory taste to the dish.
🛢️ OLIVE OIL – Somehow olive oil works best with mushroom recipes. Basically, you can replace it with any other oil, however, things cooked with quality cold-pressed organic olive oil taste better than food cooked with sunflower oil.
🥛 SOUR CREAM – a few tablespoons of sour cream will combine perfectly with the mushrooms and will add to the creamy taste of the rice.
🧈 BUTTER – we sauteed sliced porcini beauties on a piece of hot, melted butter to add to the creaminess of the rice.
🧂 SALT, BLACK PEPPER AND PARSLEY – honestly, porcini mushrooms with their nutty flavor taste so great that you definitely don't want to override the taste with the seasoning. That's why we used only salt, black pepper and parsley in the recipe. A hint – fresh parsley added at the end of cooking will taste best.
How to make a creamy mushroom rice
PREPARE THE MUSHROOMS
STEP 1: If you hunted for your porcini yourself, make sure you remove the leaves, soil and pieces of wood from the mushrooms. Slice them into small pieces and quickly saute them in hot butter. Just enough, that the excess water evaporates.
COOK THE RICE
STEP 2: Heat three tablespoons of olive oil in a big pan. In the meantime, dice the garlic and the onion. Add the onion and stir until it looks golden yellow, tender and translucent.
STEP 3: Add the rice and toast it in the pan for a few minutes. Toasting the rice before adding water adds to the rich and nutty flavor, and besides that, it will boil more quickly. Now pour in a half glass of hot water, to prevent the rice from getting burned. For a deeper taste, you might add a glass of white wine instead of water.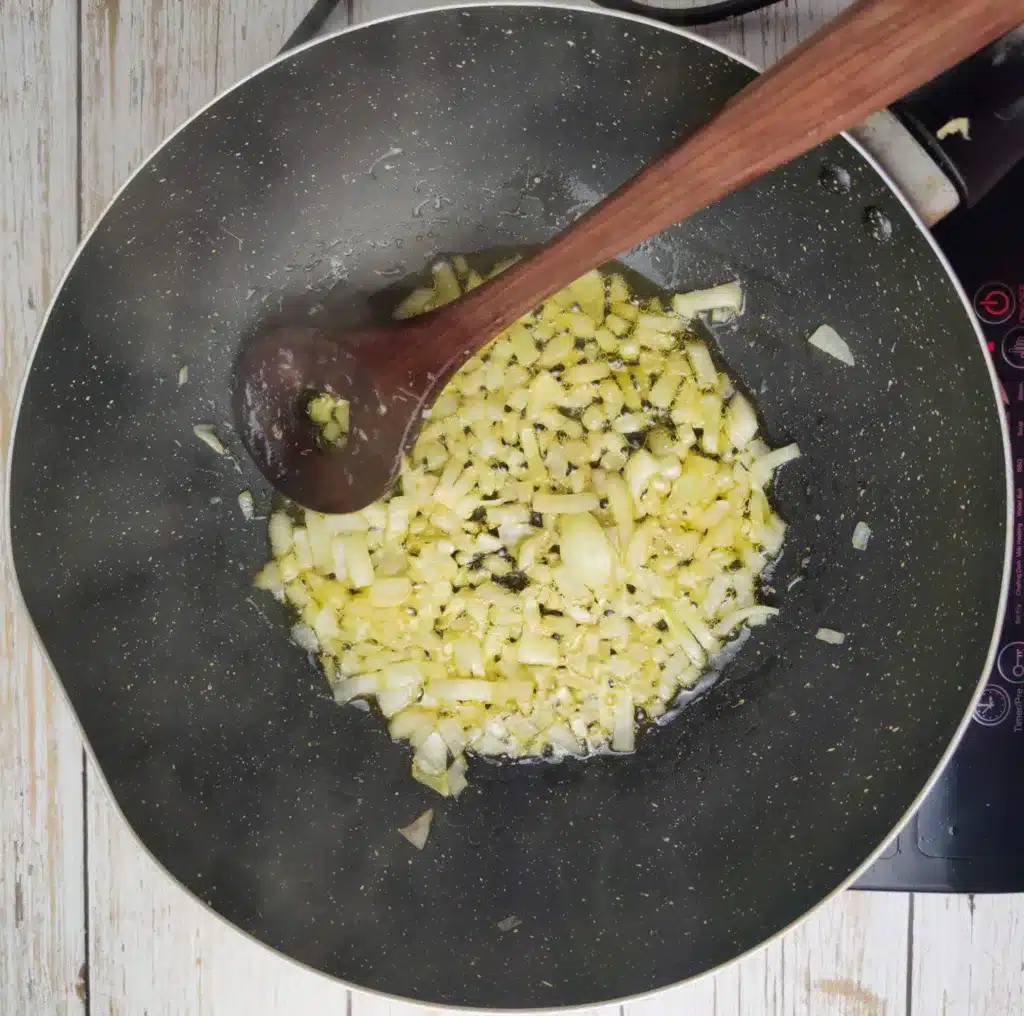 STEP 4: After that, you can bring in four tablespoons of sour cream and garlic. Finally, add the stir-fried porcini mushrooms, and mix them well in so that all ingredients combine. Sprinkle with a pinch of salt and black pepper and add another glass of hot water, just enough, that the mushroom rice is covered with liquid.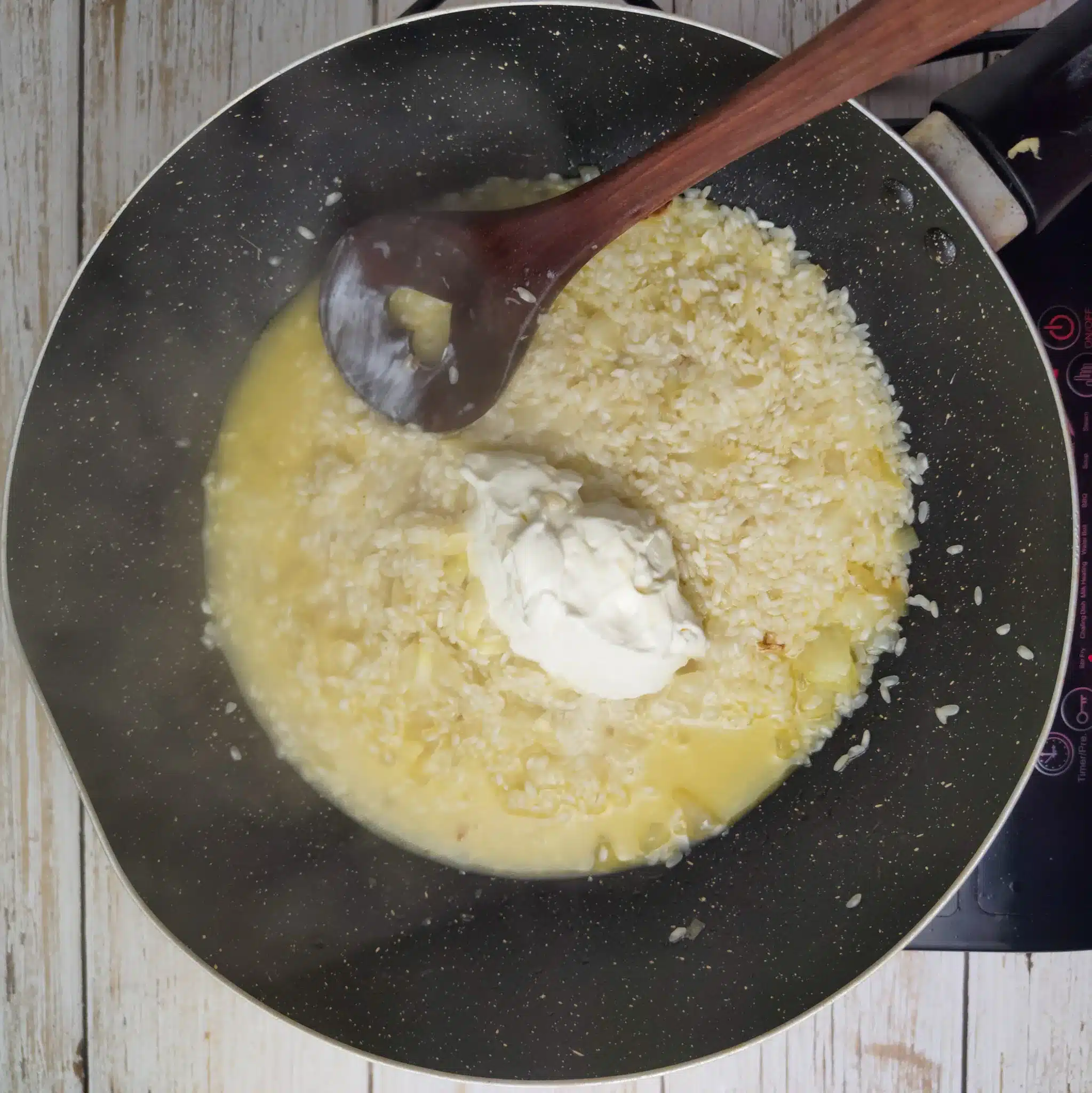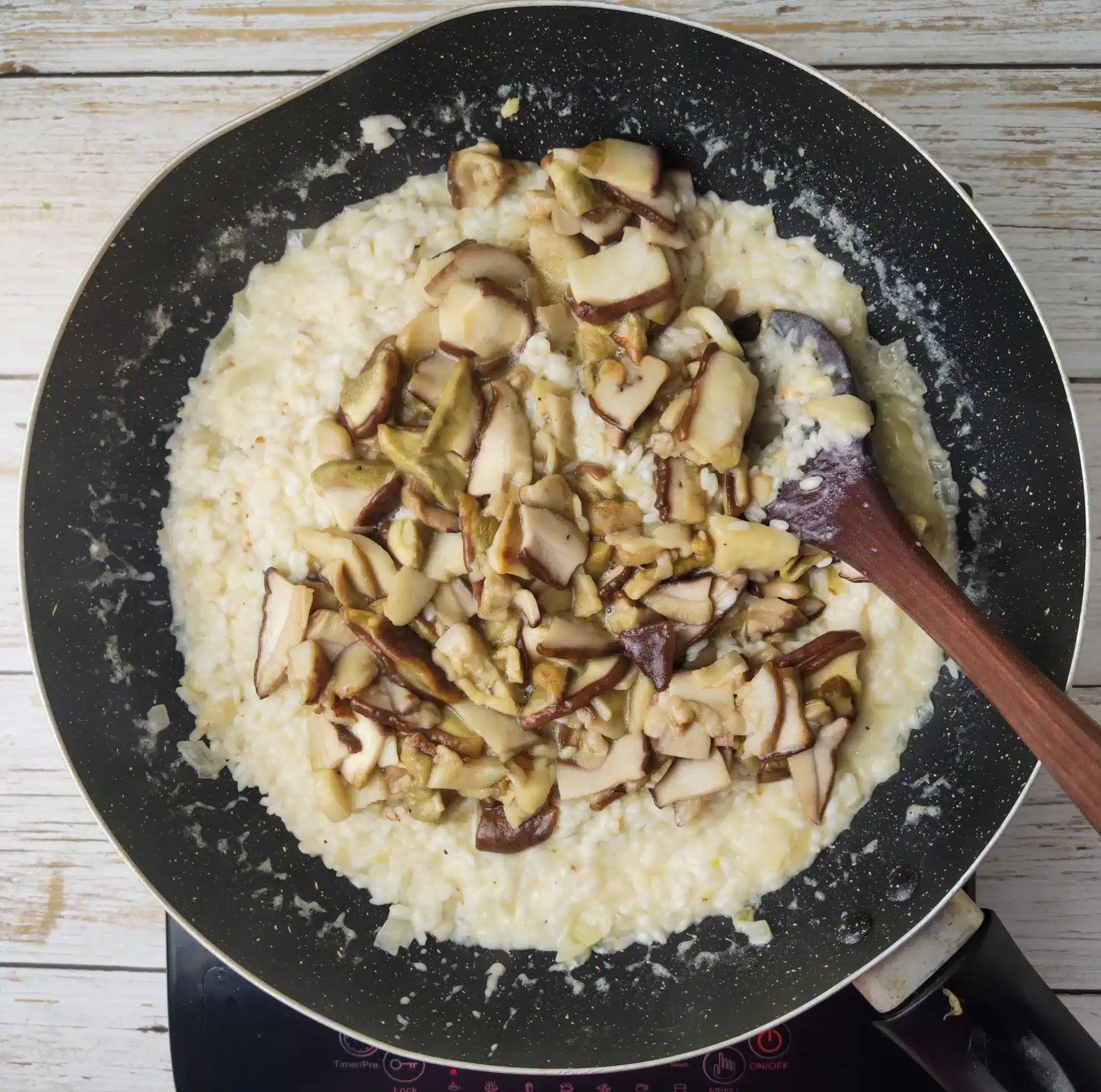 STEP 4: Reduce the heat to low and cook for another 15-20 minutes. Ensure you keep stirring your rice frequently. Stirring will help the rice to become creamy and prevent it from getting burned at the bottom of the pan. When the water evaporates and gets absorbed by the rice, keep adding more liquid, but only one small glass at a time.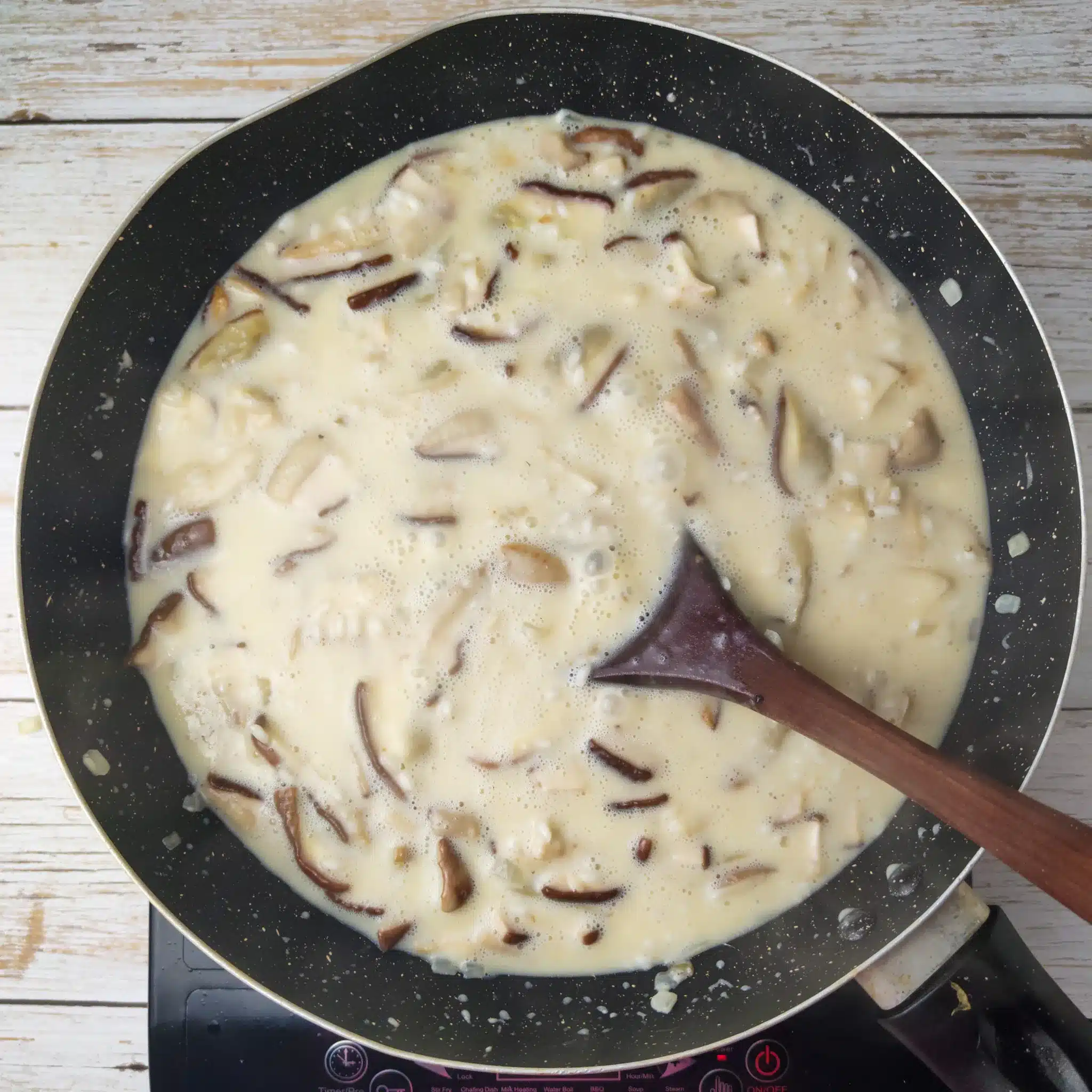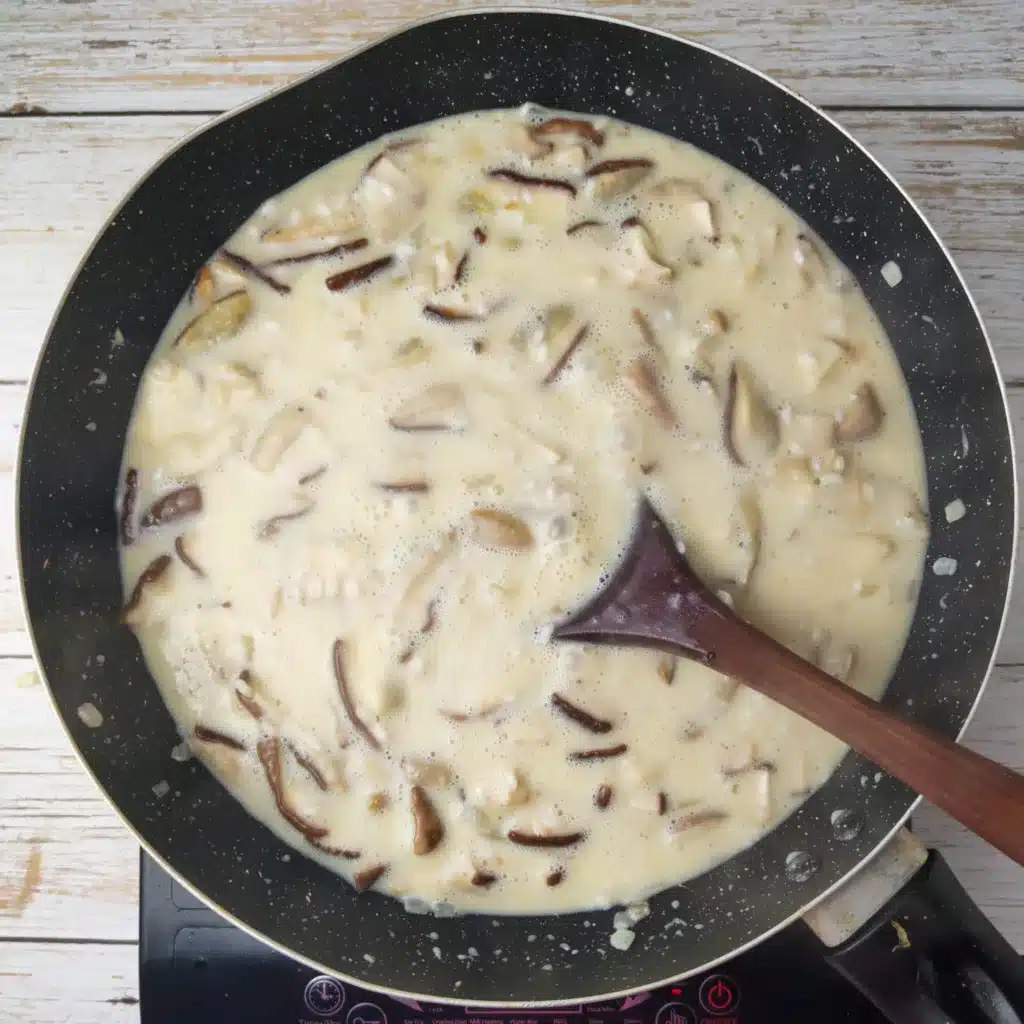 STEP 6: After about 18 minutes, when the rice looks cooked, it's crucial to taste it. Just before it's finished (that's actually the moment when you think it's almost finished), turn off the heat, add the parsley, cover the pan with a lid and let it rest for few minutes more. The rice will absorb the excess water and still taste perfectly creamy.
STEP 7: Sprinkle with a spoonful of shredded parmesan cheese. Just a hint – serve your mouth-watering mushroomy rice with a glass of Chardonnay.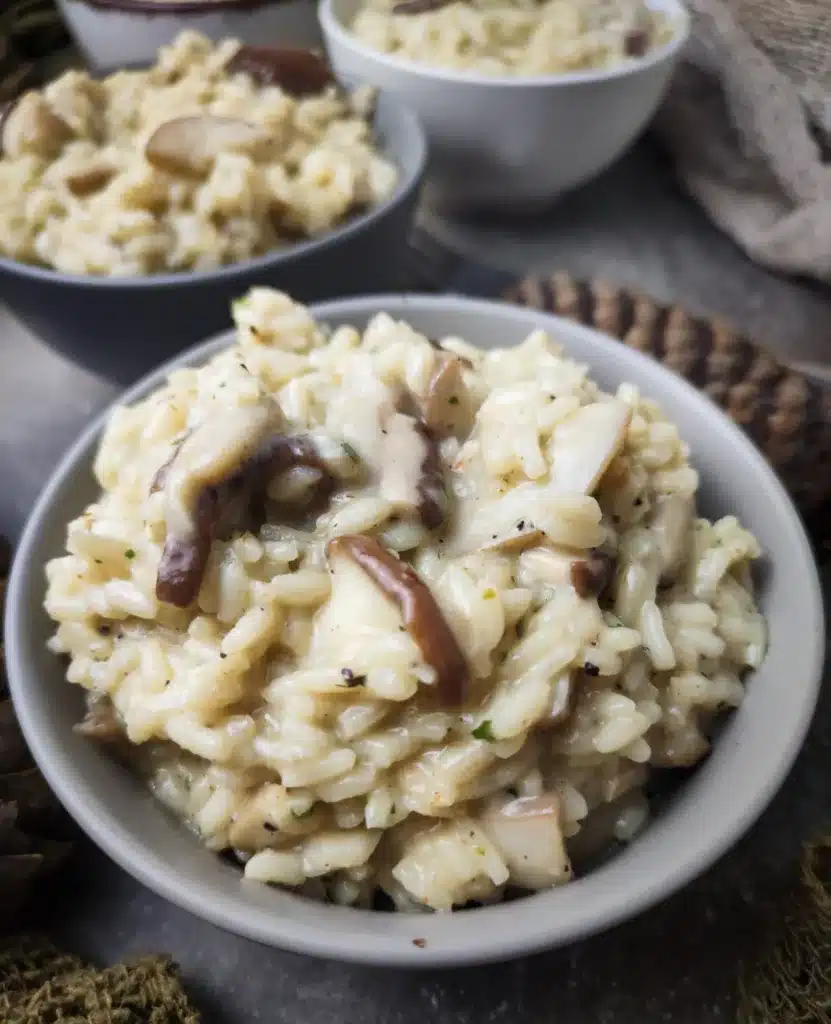 Food nutter's tips
If you're picking porcini mushrooms, it's best to use the mushroom the same day you brought them home. Do not keep them for more than two days in the refrigerator (stored in a paper bag).
Prefer to clean the mushrooms by hand and dry cloth over washing them with cold water. Porcini when washed, absorbs a lot of water, which shortens the storage time and changes the process of cooking. Do not wash the rice either.
If you're buying porcini mushrooms on the market, look only for fresh and healthy-looking mushrooms. It's best to buy them from a known seller for whom you are sure he brought them straight from the forest. Porcini mushrooms, grown after heavy rainfall will contain large amounts of water and will need to be cooked as soon as possible.
You can make the mushroom rice whole year round with frozen or dried porcini.
To add depth to the richness of creamy rice, pour in a glass of white wine. The final dish will not contain alcohol as it will evaporate before the rice is fully cooked.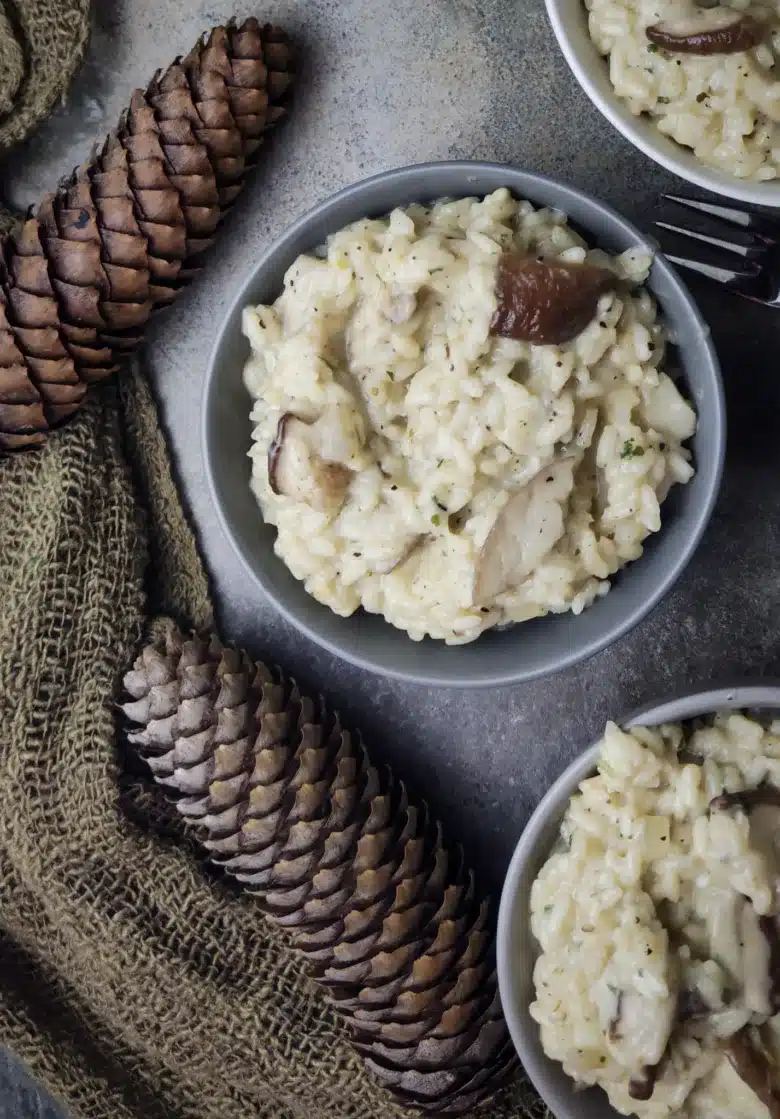 Creamy mushroom rice variations and substitutions
It will be very hard to replace the nutty taste of porcini mushrooms with anything other than dried porcini. However, the more species of mushrooms in the rice, the better it usually gets. Adding half the amount of edible Russula mushrooms to the rice was tested and proven to taste delicious.
Skip the butter and sour cream by using vegan cream cheese instead for a vegan variation of creamy mushroom rice. The rice will still taste perfectly creamy even without these ingredients.
Arborio rice can be replaced with other varieties of rice or grains. We've done this with barley, but the absolute winner was buckwheat porridge with porcini.
Storage
You can store fresh porcini mushrooms for up to two days in the refrigerator, ensuring that you stored them in a paper bag or wrap. If you won't prepare them during that time, it's better to blanch and freeze them.
Once the mushroom rice is cooked, it's best to eat it immediately or store it in an airtight container in the fridge for up to 24 hours.
You might want to avoid reheating the rice with mushrooms if you have a sensitive stomach. The enzymes and proteins contained in the mushrooms will start to break down quickly, bacteria will do their usual job, and the whole process can be quite accelerated with reheating.
For the same reason, we don't recommend freezing cooked mushroom rice.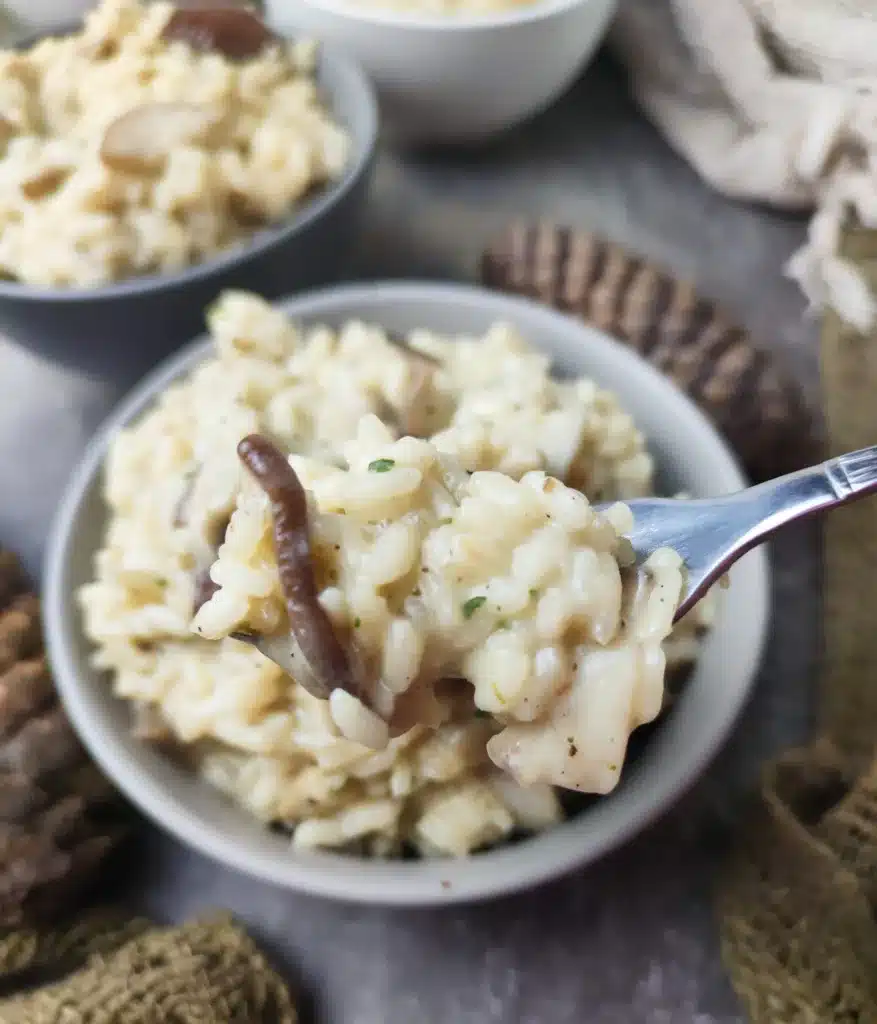 FAQs
Is creamy mushroom rice with porcini gluten-free?
Yes, none of the ingredients in the creamy mushroom rice with porcini contains gluten, unless you substitute the rice with barley or some other gluten-containing grains.
How can I make creamy rice with regular rice?
You can easily make a bowl of mushroom rice with any regular rice, it just might not taste the same as made with arborio rice. Arborio rice contains a lot of starch which makes the rice creamy.
However, adding some creamy or starchy ingredients and stirring the rice often could result in a different, but even tastier rice dish.
Why must risotto be stirred with a wooden spoon?
Risotto is usually cooked with starchy arborio rice which makes it very creamy. The second reason behind the creaminess is that the rice grains will be bruised and scraped by frequent stirring.
Compared to stirring with a metal spoon, stirring with a wooden surface simply removes more of the starch on the surface of the grains.
Is arborio rice gluten-free?
Yes, although it gives the dish a starchy and creamy texture, arborio rice (like all other rice) contains only rice gluten, which is safe for people with gluten sensitivity.
What is the closest porcini substitute?
Leccinum species, specially Leccinum aurantiacum tastes great in recipes where porcini mushroom is originaly cooked. If picking the Leccinum mushrooms yourself, make sure you are comprehensively familiar with the species.
Food nutter's recipes with porcini
More from the food gatherer's kitchen
Lactarius deliciosus puff pastry tarts
Traditional spruce tip syrup recipe
Share by Email
Creamy mushroom rice with porcini
Delicious creamy mushroom rice with porcini (boletus edulis) mushrooms.
INGREDIENTS
1,8

cup

rice

0,88

lbs

fresh mushrooms (preferably porcini)

1

onion

5

cloves of garlic

0,13

lbs

butter

3

tbsp

olive oil

4

tbsp

sour cream

salt, black pepper, parsley

1

glass

of wine (optional)

6

tbsp

parmesan cheese
INSTRUCTIONS
Clean the mushrooms and remove the leaves, pieces of wood and the remains of the soil. Slice them into pieces.

Heat the butter in a pan and saute the porcini until the excess water evaporates.

Heat three tablespoons of olive oil in a big cooking pan. In the meantime, dice the garlic and the onion. Add the onion and stir until it looks golden yellow, tender and translucent.

Add the rice to the pan and toast it for a few minutes.

Add sour cream and garlic. Finally, bring in the stir-fried porcini mushrooms. Make sure that all ingredients combine.

Sprinkle with a pinch of salt and black pepper and pour in a glass of water (or wine). The rice should be covered with liquid, but do not add more than one small glass at a time.

When almost boiling, reduce to the lowest heat. Stir frequently.

Cook for about 15-20 minutes. Just before the rice is cooked, add fresh parsley, turn of the heat and let it rest (covered with a lid) for few minutes.

Sprinkle with parmesan cheese and serve with a glass of white wine.
NOTES
For best results use fresh porcini mushrooms. Cook the mushrooms the same day you've picked them or bought them, do not keep them more than two days in the refrigerator. 

Do not wash the mushrooms, clean them with a dry piece of cloth and remove the dirt by hand.  Do not wash the rice either.

Make the creamy rice with porcini whole year round using frozen or dried mushrooms

When adding water to the rice the recipe works best if the water (or broth) is hot.

Stir the rice while cooking frequently, preferably almost all the time. Frequent stirring will scrap the starch from the rice grains and the rice will get a creamier texture. 

For a richer taste add a glass of white wine instead of water.

For a different, but still delicious creamy rice, replace a half of the amount of porcini with Russula and/or Leccinum mushroom.

Skip the butter and sour cream for a vegan variation or add vegan cream cheese to the rice. 

For a different, but incredibly tasty dish replace the rice with barley or even better, buckwheat porridge,  
Nutrition
If you liked this creamy mushroom rice with porcini, please rate the recipe in the comments below.
Show your love by sharing ❤️