This almond flour zucchini muffins recipe is so easy to follow and these muffins taste so great, that you won't even notice they have only a few grams of carbs.
I guess we all have the same problems, we want to follow a keto or low-carb diet, but then ughhhh…
When you're at home you swear you are going to eat healthier and you're so happy to start looking for all those yummy low-carb dishes you find on google.
But then these stressful workdays come into the picture. They get longer and longer and you get more and more hungry. You don't have time to cook. You rush out to get a healthy low-carb meal but end up in McDonald's drive-thru. After 2 minutes of fighting with your brain, you end up smelling chicken McNuggets in your bag. Saying to yourself, Ok, only this time, tomorrow I'll eat healthy again.
But tomorrow is even shorter than today. With more and more work overload and less and less time, after a month you find yourself measuring that cute belly fat where your waist used to be.
I guess that's how keto muffins were invented 😉
Prepare them in advance, pack them in your lunch box and when you feel hungry, indulge yourself with these healthy cupcakes like a pro.
Jump to Recipe
Why you'll love this almond flour zucchini muffins recipe
They are made with simple and easily available ingredients.
These keto zucchini muffins are so easy to make that even kids can bake them.
They are very low in carbs, but full of healthy nutrients.
These low-carb cupcakes can be prepared in advance and they can even be frozen.
It's easy to pack this delicious snack and grab one whenever you feel hungry.
And lastly, they are tasty and moist, and they look great too.
Ingredients you'll need
🍚 ALMOND FLOUR – almond flour is the basic ingredient in this recipe. Almond flour is made of blanched and peeled ground almonds. You will easily find it in any grocery store. If you have a good food processor, you can chop and grind blanched almonds at home and make your own almond flour.
🥥 COCONUT FLOUR – Coconut flour is made by grinding dried pieces of coconut meat. You will be able to find it in every supermarket. Coconut flour is gluten-free and contains a high amount of proteins and a very low amount of carbs.
If you don't like the taste of coconut flour you can skip it entirely and add another cup of almond flour instead.
🥚 EGGS – for this recipe we used three middle-sized eggs. Because almond and coconut flour doesn't contain gluten, the eggs will create structure and stability and they will act as the glue in the mixture.
🍩 CHOCOLATE CHIPS – keto chocolate zucchini muffins are made with dark chocolate, containing at least 70% of cocoa. When shopping for chocolate chips be careful to read the labels as some chocolate chips are made with sugar.
However, the chocolate flavor of the muffins will be exactly the same if you buy a bar of dark chocolate, with no sugar, and cut it into small pieces instead of buying premade chocolate chips.
🥒 ZUCCHINI – one shredded middle-sized zucchini will really add moisture and a specific taste to the muffin mixture. Zucchinis are rich in antioxidants and are a valuable source of vitamin C.
🍯 ERITHRYTOL – we used erythritol in this keto zucchini muffins recipe, but basically you can change it for any sweetener of your choice. If you don't have a sweet tooth, you can even skip the sweetener entirely.
🛢️ OIL – You will only need two tablespoons of oil to grease the baking tins before putting the batter in them. We used sunflower oil, but for the best test use coconut oil. It mixes well with the chocolate and zucchini flavors.
🧂 BAKING POWDER – two teaspoons of baking powder used in the recipe can be replaced with one teaspoon of baking soda and half a teaspoon of vinegar.
Equipment you'll need
– muffin baking tin tray or reusable muffin silicone tins
How to make almond flour zucchini chocolate muffins
Step 1: Preheat the oven to 180C/355F.
Step 2: Shred the zucchini and strain it to remove the excess water. Beat the eggs with a hand mixer in a bowl.
Step 3: Add almond and coconut flour with two tablespoons of baking powder to the eggs. Mix with a hand mixer on low speed.
Step 4: When the batter is mixed well, add the shredded zucchini, and lastly, add the chocolate chips.
For mixing in the zucchini and chocolate chips use only a spoon. Do not use the mixer as it will break the pieces of chocolate and turn the batter into dark brown color.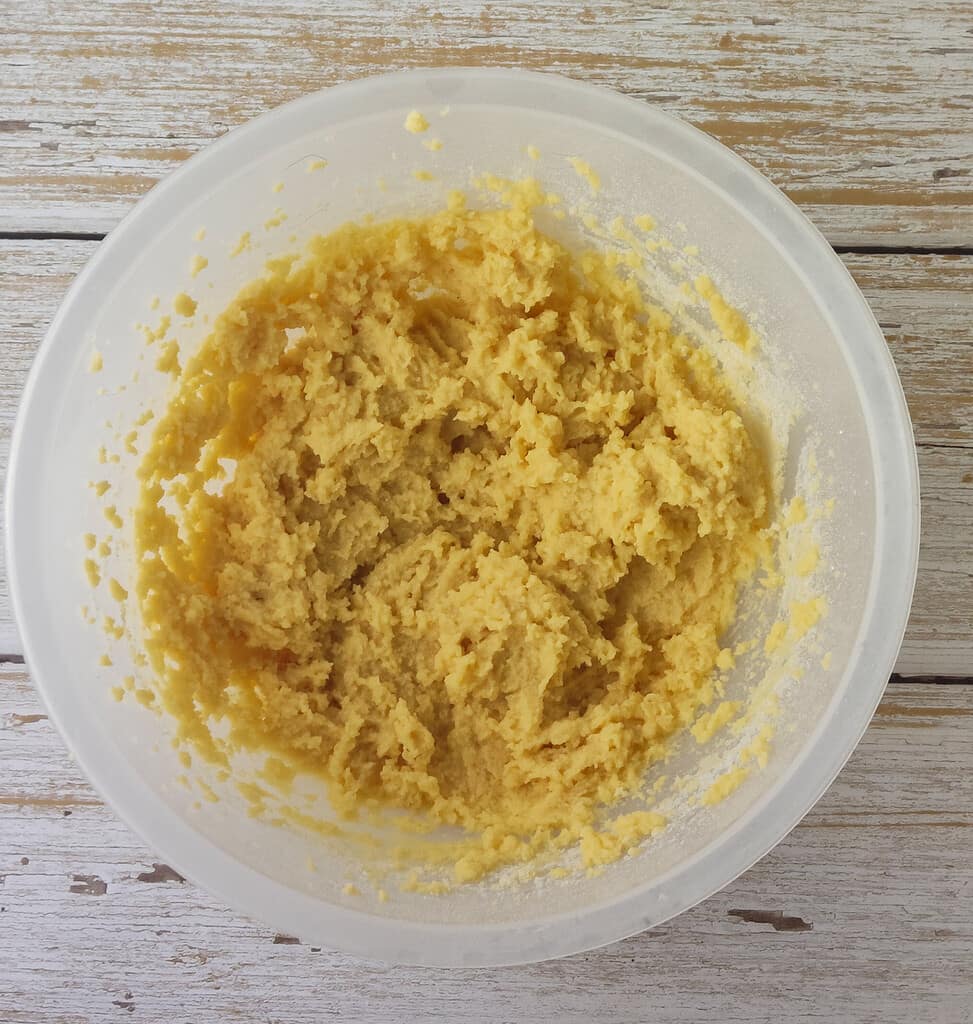 Step 5: Grease the muffin baking tin tray or silicon muffin tins with some oil, preferably coconut oil.
Step 6: Fill each hole of the baking tin tray or each muffin tin with the batter using a spoon.
Step 7: Bake at 180C/355F for about 25 minutes, until you notice the golden color and crunchy light brown sides of the muffins.
Step 8: Cover with a clean kitchen cloth and let the muffins cool for about 5 minutes.
Enjoy 😚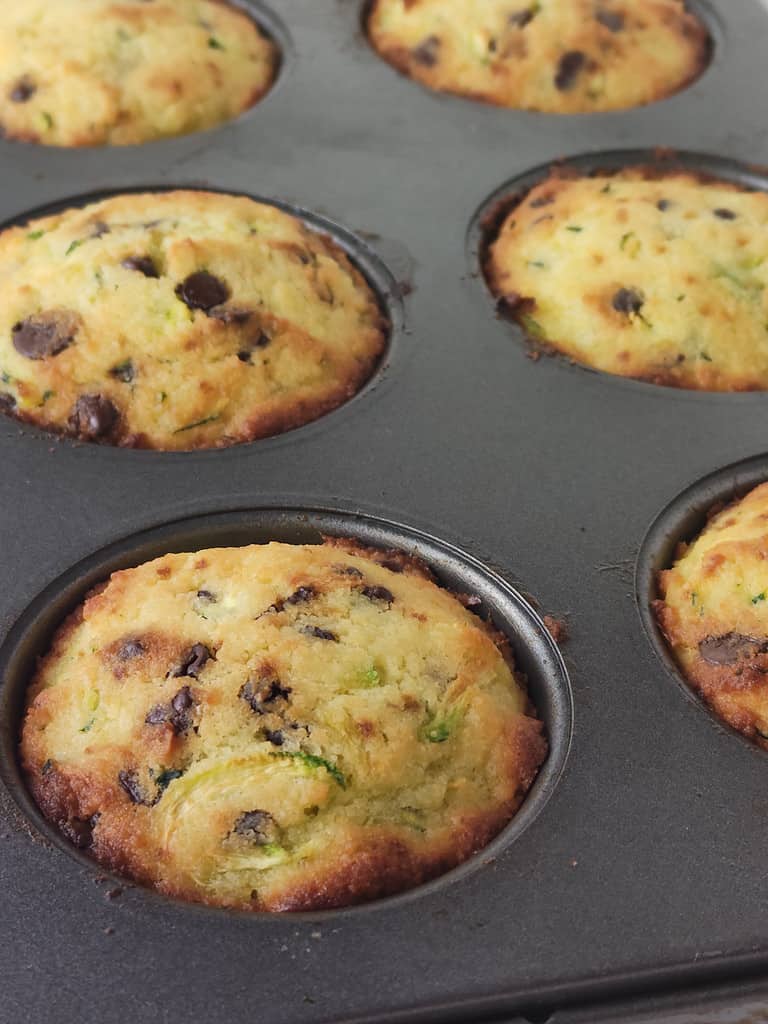 How to store almond flour zucchini chocolate muffins
In the fridge
These muffins will last up to a week in the refrigerator, but make sure you store them in an airtight container or bowl with a cover.
You can make the muffins in advance and pack them in a lunch box or zip-lock bag to be ready for a healthy snack or lunch.
In the freezer
Keto zucchini muffins can be kept in a freezer for about 6 months. When you want to eat them, we recommend you thaw the muffins in the refrigerator overnight.
If you wish to reheat them, place the muffins on a baking sheet in the hot oven for 5 minutes or reheat them in a microwave.
Tips
🧁 Bake 3 baking trays of muffins at the same time and keep them in the freezer to stack up for times when you don't find enough minutes to pack a healthy lunch box.
🧁 If you don't have zucchini at home, you can replace it with any other kind of fruit, like berries, pieces of apples, peaches, etc. With a little bit of imagination, skip the chocolate and make a salty version of muffins, mixing in some cheese, ham and other vegetables at hand.
🧁 If you don't have one of those muffin baking tin trays or reusable muffin silicone tins, don't worry. You can easily bake these almond flour zucchini muffins in a few old mugs.
faq
When does almond flour expire?
If you are buying premade almond flour it's best to follow the recommendations and expiry date of the seller.
However, an unopened bag of almond flour will usually last for up to a year in the refrigerator and up to a year and a half to two years in the freezer.
An opened bag of almond flour should last for up to 3 months in the pantry, up to 6 months in the refrigerator, and up to a year in the freezer.
Can I use ground almonds instead of almond flour?
Yes, ground almonds work great in muffins recipes.
Although, if using ground almonds instead of flour, it's best to first beat the egg white till solid and only then mix the almond with the eggs with other ingredients.
How much coconut flour do I need to replace almond flour?
To replace 1 cup of almond flour you need 1/4 cup of coconut flour.
Are chocolate chips gluten-free?
It depends on the manufacturer, most of them are just chocolate transformed into small chocolate beans. The usual chocolate doesn't contain gluten, although it's best to always double-check the ingredients.
Some chocolate bars contain cookie fillings, sweet liquors or cereals. To be 100% on the safe side, try to make homemade chocolate chips from a quality chocolate bar yourself.
Other recipes you might like
Delicious keto egg muffins with sausage
Puff pastry cinnamon pinwheels
Ham and cottage cheese crescent rolls
Share by Email
Almond flour zucchini muffins
Easy to make keto almond flour muffins, with coconut and chocolate chips.
INGREDIENTS
2

cups

of almond flour

1/3

cup

of coconut flour

3

eggs

1

middle sized zucchini

1

cup

chocolate chips

3

tbsp

erythitol

2

tsp

baking powder

2

tbsp

coconut oil or sunflower oil
INSTRUCTIONS
Preheat the oven to 180C/355F.

In a large bowl beat the eggs with the hand mixer.

Shred the zucchini, and place it in a strainer or clean cloth to wring out any excess moisture.

Whisk together the eggs, almond flour, coconut flour and baking powder.

With a spoon add the shredded zucchini in the batter and stir well.

Gently stir in in the chocolate chips.

Grease the baking tin tray or muffin tins with the oil. If you don't have oil, use the butter.

Fill the batter into muffin tins up to 2/3 of the tin

Bake at 180C/355F for about 25 minutes.

When baked cover with a clean cloth and set aside for 5 minutes.

Enjoy your healthy almond flour zucchini muffins 🙂
NOTES
🍥

Bake 3 baking tin trays at the same time to freeze the muffins and stack up with a healthy low-carb snack for your lunch box.
🍥

Replace the zucchini with any other fruit you have at home, blueberries, strawberries, plums, pieces of apples, peaches or even orange pieces. If you skip the chocolate and the sweetener and add some cottage cheese, you can make a delicious salty version of almond flour muffins. 
🍥
Use old mugs instead of muffin tins or baking tin tray.
🍥

Replace the oil with an additional 1/2 cup of shredded zucchini. 
Nutrition