Puff pastry pizza tarts are so simple, easy to make, and sooo yummy.
Try and make these tarts in minutes! It's a snack that will just vanish right before your eyes when you put it on the table.
Besides Lactarius deliciosus tarts and juicy fruit tarts these puff pastry pizza tarts are our favorite.
Enjoy the crunchy crust and the irresistible taste of your cute puffy pizzas!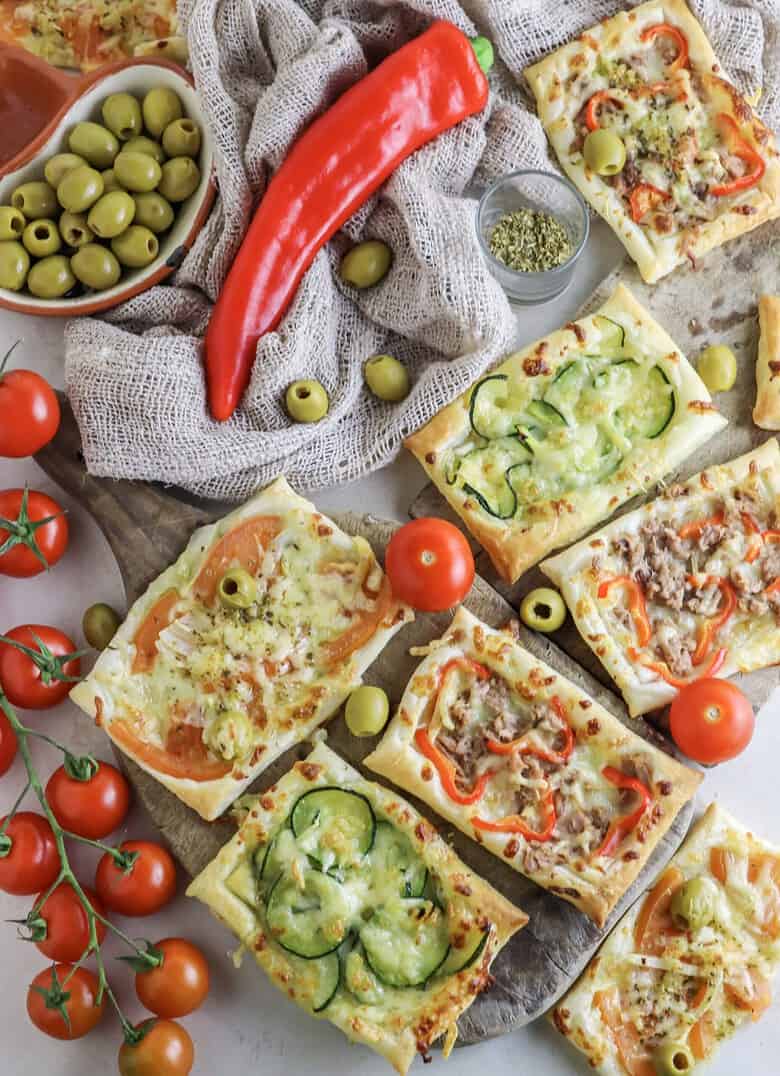 Why you'll love these puff pastry pizza tarts
they're made in minutes
Do you remember those nights when you got unexpected guests and didn't know what to serve?
Well, that's exactly the reason why it's soooo convenient to keep a pack or two of puff pastry in your fridge. Twenty minutes and there you go, you got a delicious, crispy snack on your table.
Your kids want pizza, and you don't want to mess the kitchen making the dough and waiting for it to rise? Puff pastry pizza tarts will be done in minutes, with much less hustle than a mini pizzetta, leaving a clean kitchen behind.
It's so easy to make them
You really don't need to be a chef to make puff pastry pizza tarts. Puff pastry pizza recipes are probably the easiest recipe you've ever seen, but above all, they are the most delicious snack to satisfy your hunger.
They're cheap
These delicious puff pastry pizza tarts for four persons can be made with ingredients for less than $5.
Maybe you have your own garden? If so, you got your two bucks dinner on the table in minutes. After all, some people make it for even less than $2.
Variations of puff pastry pizza tarts
We want our pizzas to be easy and quick to make and still have that taste of deliciousness.
If you don't have time to make your own pizza pastry, then puff pastry is your solution!
It's crunchy and always sooo tasty that no one won't be able to resist.
Anyway, like anyone knows if you made it or bought it, right? 😊 Preparing the puff pastry is the same for all recipes. Spice things up and add different toppings of your choice.
This recipe will show you how to make a tuna topping pizza, classic Margherita pizza, or a delicious zucchini puff pastry pizza tart. Make all those toppings at the same time for colorful pizza tarts, or just top it up with the one you like the most.
Ingredients you'll need
🥖 PUFF PASTRY DOUGH – If you have plenty of time, we recommend you stack up with homemade puff pastry dough.
Otherwise, any kind of puff pastry (dough or sheet) packet from the supermarket will do the job. If you want to thaw the frozen dough, it's best to thaw it in the refrigerator overnight.
🧴 OLIVE OIL – I love using the homemade olive oil that we sometimes buy during trips to Greece or Croatia. When it's gone, we simply use virgin olive oil from the supermarket. Olive oil and garlic will add a special flavor to your pizza tarts, so it's best not to replace them with sunflower oil .
🧀 CHEESE – If possible, I prefer to use two kinds of cheese on pizza; first, I top it with gouda or any similar cheese. And then with shredded mozzarella cheese. It does not matter if you don't have mozzarella cheese; any hard cheese that is willing to melt will do the job.
🐟 TUNA TOPPING – what you will need for a tasty tuna topping is a can of tuna (yes, it can be the cheapest one), an onion, cheese, a small bell pepper, garlic, salt and black pepper
🍕 MARGHERITA TOPPING – A tomato, a small bell pepper, olives, cheese, salt, black pepper, and oregano
🥒 ZUCCHINI TOPPING – a middle-sized young zucchini, cheese, salt, black pepper and looots of fresh garlic
🛒JUST A HINT – or let's say a friendly reminder to open the refrigerator and pick up all those leftovers, that are watching you from the inside for weeks.
Do you see some old pieces of cheese inside? Leftover salami? A little bit of pesto sauce? An egg? Give it a try!
Not to mention, having your own garden will make you feel like a rockstar when you put your pizza on the table.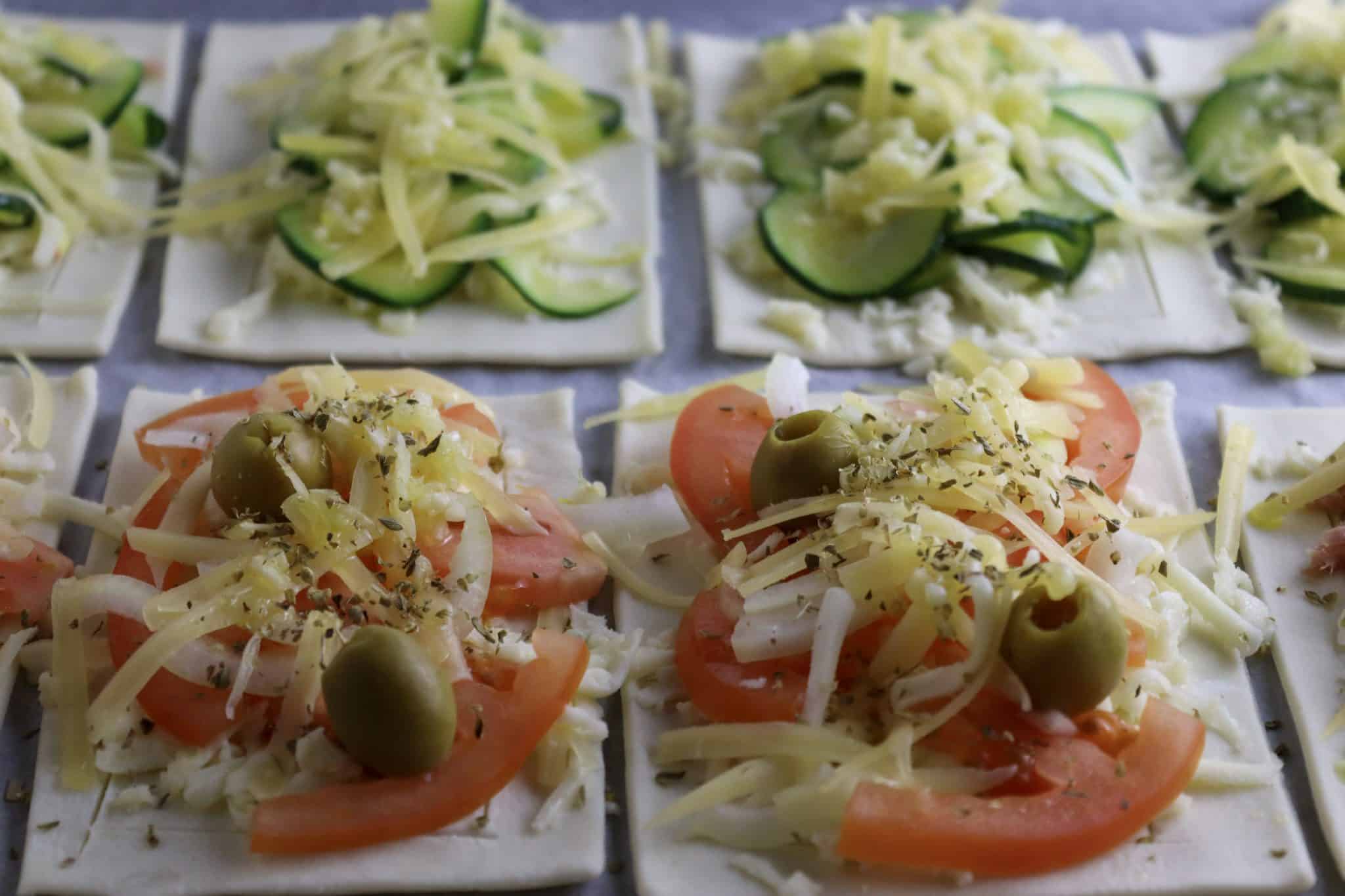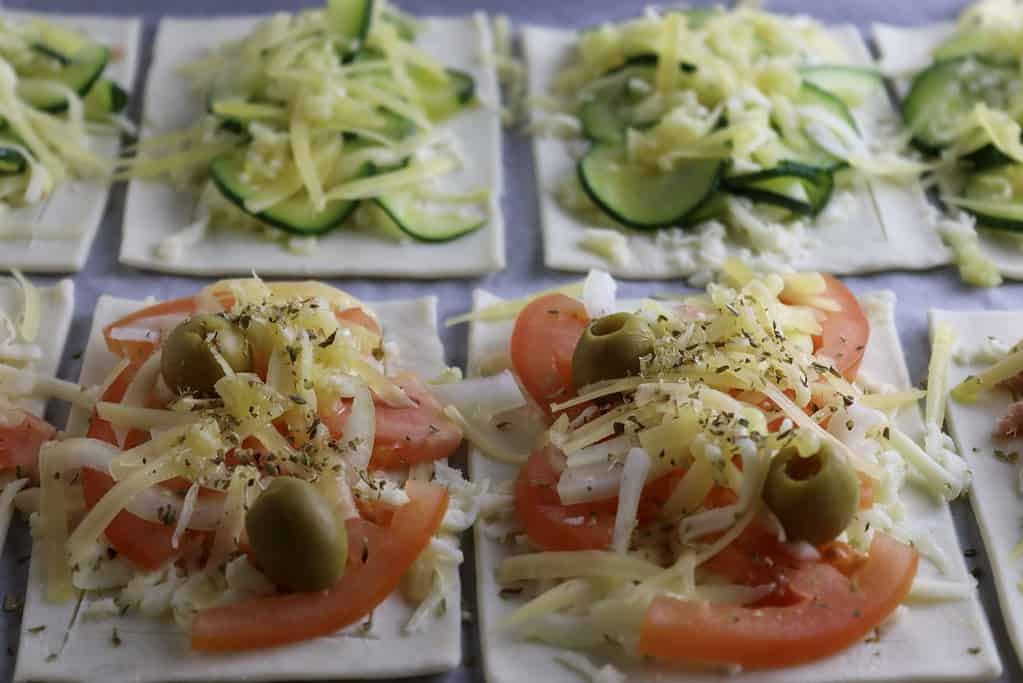 Equipment you'll need
How to make puff pastry pizza tarts
STEP 1: Preheat the oven to 392F/200C
STEP 2: Prepare the toppings first. Puff pastry contains a lot of butter and must be cool when baking it in the oven.
For the zucchini puff pastry pizza, you will need to cut the zucchini into thin pieces and gently stir the pieces with salt. Wait until you see them wet.
Quickly roast them in hot olive oil on both sides. Make sure they are not over-roasted; baking the zucchini in the oven will finish the process.
STEP 3: In the meantime, cut the other ingredients and vegetables into desirable shapes, and shred the cheese. Cut the garlic into small pieces and mix it with a tablespoon of olive oil.
STEP 4: Take the puff pastry out of the refrigerator.
Cut the puff pastry sheet into six (or more) squares to get a more crunchy crust. Place them on the baking sheet covered with baking paper.
With a sharp, small knife, score the borders of your squares. When using a knife, be careful that you don't cut all the way through the pastry. Once the center of the tarts is loaded with cheese and vegetables, the borders will rise and puff when baking.
STEP 5: First, top up the puff pastry with a layer of shredded hard cheese and top it with a layer of mozzarella cheese. Save about ¼ of the mozzarella cheese for later.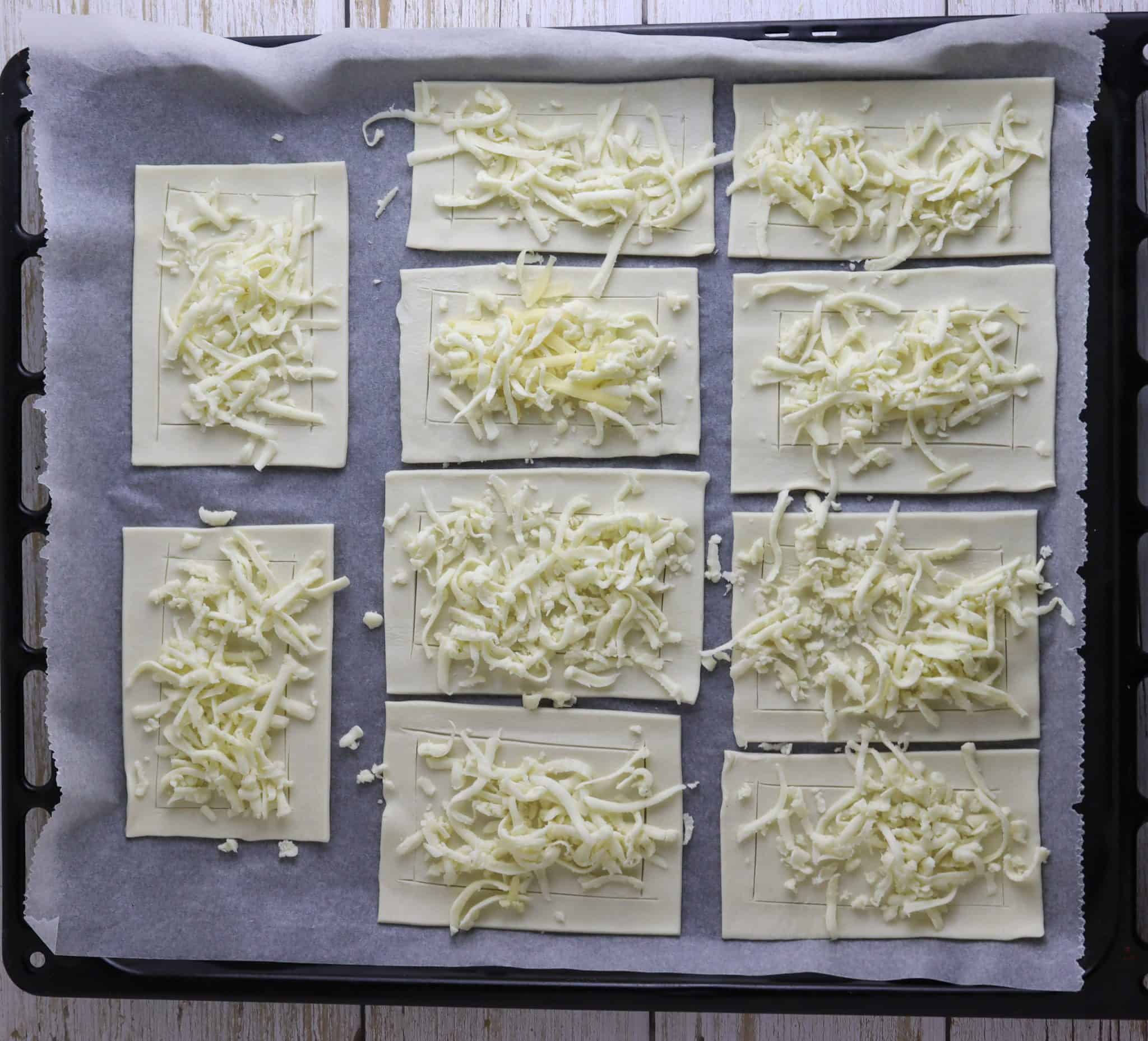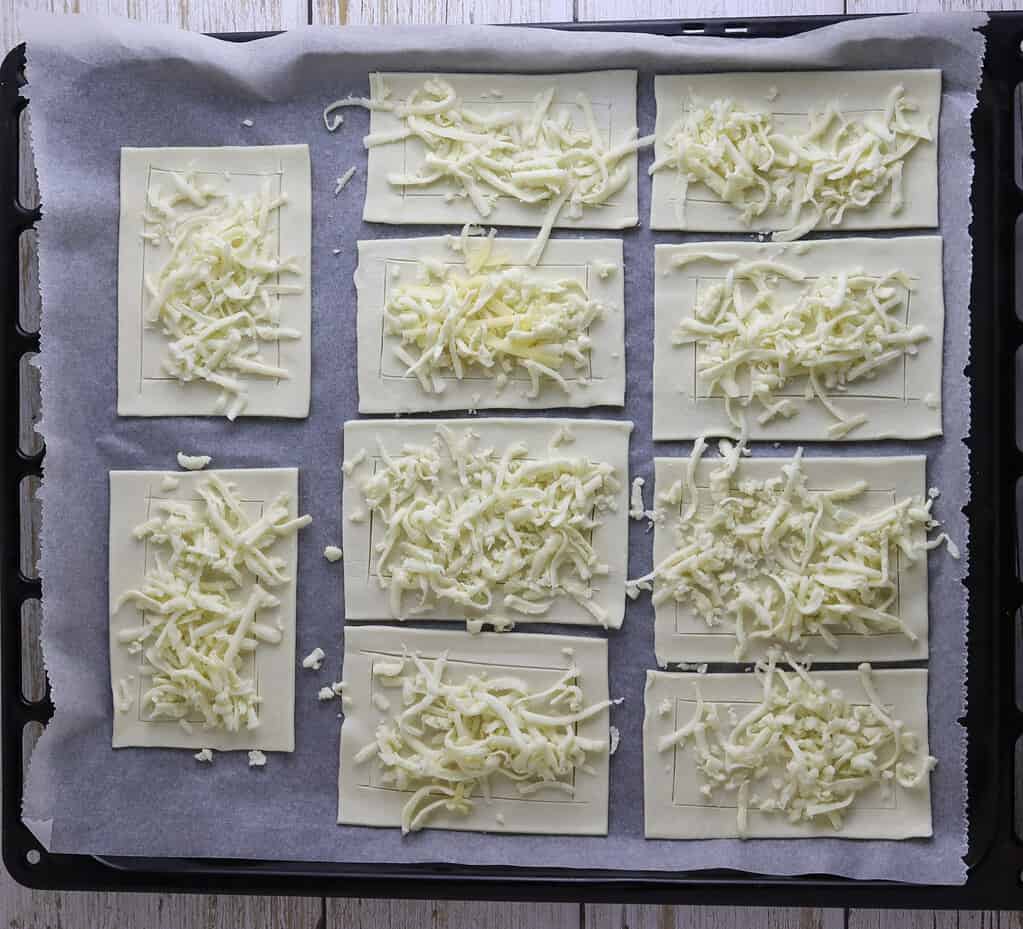 STEP 6: For making the tuna pizza tarts add tuna pieces, garlic, and cut pepper bell.
To make zucchini pizza tarts top the puff pastry pieces with grilled zucchini pieces and garlic mixed with olive oil. Use sliced tomatoes, pepper bells, and olives for the Margherita version. Finish it with ¼ off mozzarella, the other cheese sprinkled on top, and a pinch of oregano.
STEP 6: Bake it in the oven for 15 minutes at 400F/200C till the crust looks crunchy and the beautiful golden brown color of the cheese is seen.
Can I double this puff pastry pizza recipe?
Yes, if you need more puff pastry pizza tarts, you can make hundreds of these little pizzas! It really works best on smaller pieces of the puff pastry sheet, that way each one of them will get that tasty, crunchy crust.
Storage and reheating
Keeping tarts in the refrigerator
In the fridge, you can store your tarts in an airtight container for up to 3 days. If you want to reheat it, use the oven at 320 F/160 C or simply use the microwave.
Freezing puff pastry pizza tarts
If you are freezing puff pastry pizza tarts, put the pieces in the freezer, place them on a big baking sheet, and cover them with plastic wrap.
After they are solid enough, pack them in a plastic bag or airtight container. This way, pizza tarts won't stick together when waiting in the freezer.
Pizza tarts will last up to 3 months in the freezer. Thaw them in the microwave or room temperature when feeling hungry and reheat them in the oven.
You can freeze baked puff pastry pizza tarts only once.
Other recipes you might like
Ham and cottage cheese crescent rolls
Simple fruit tarts with puff pastry
faq
How do you make your puff pastry crispy?
When you want to bake your puff pastry sheet, it should come out of the fridge before going to the oven.
Leaving the pastry at room temperature will make your dough floppy. It contains a lot of butter and the butter shouldn't melt before you bake.
Also, make sure you are baking it at the right temperature; when the temperature in the oven is too low, the topping will make the puff pastry too wet and too soft.
How do you keep puff pastry from getting soggy?
Puff pastry will get soggy if you top it with too much oil or too much sauce, if the sheet is too thin or if you bake it at low temperatures.
Pre-bake the sheets in the oven (5 minutes) to ensure the dough won't get soggy.
Should I thaw the puff pastry before baking?
Yes, frozen puff pastry won't bake well. It contains a lot of butter and the butter will melt too quickly to retain the puffy structure of the pastry.
For how long is puff pastry good in the fridge?
Fresh and thawed puff pastry can last for several days; sometimes, sheets from the market can last even up to a month in the fridge.
Actually, the longer you keep it in the refrigerator, the better it tastes. Just make sure the package is whole or covered with plastic wrap or in an airtight container.
How long it takes to thaw puff pastry?
The best way to thaw puff pastry is to thaw it overnight in the fridge.
You can also thaw your puff pastry at room temperature, but make sure you use it at the right time while the dough is still cold.
If you miss the ideal temperature moment, just place it in the fridge until the pastry's butter gets cool and firm again.
Is it ok to use expired puff pastry?
Basically, if you use slightly expired frozen puff pastry that probably won't be a huge problem.
But be careful with fresh puff pastry dough. Make sure you check the expiration date and observe the dough well, as it might get spoiled and moldy.
Share by Email
Simple puff pastry pizza tarts
Quick and easy to make puff pastry pizza tarts for a crunchy appetizer
INGREDIENTS
1

pack

of puff pastry sheets

1

can

of tuna

1

middle sized tomato

1

small bell pepper

1

small zucchini

1

small onion

5

cloves

of garlic

6

olives

150

g

cheese

150

g

mozzarella cheese

salt, black pepper, origano
INSTRUCTIONS
Preheat the oven to 425F/200C.

Cut the zucchini to round pieces and add salt. Remove the excess water.

Roast the pieces of zucchini on hot olive oil for about 2 minutes on each side.

In meantime, cut the rest of the ingredients into desirable shapes. Shred the cheese and set aside.

Cut the puff pastry sheet to 6 pieces. Place them on the baking sheet, covered with parchment paper. Top the pieces with olive oil using a brush.

Add the shredded cheese on the puff pastry pieces top it with mozzarella pieces. Save 1/4 of mozzarella for the finish.

For zuccini pizza tarts add roasted zuccini pieces and garlic mixed with some olive oil on top.

For tuna tarts, top the pastry and cheese with sliced pieces of onion, bell pepper and tuna pieces from the can.

For a Margherita version of puff pastry pizza tarts, add, sliced tomato, bell pepper, olives and and a pinch of origano.

Sprinkle with a pinch of salt and black pepper and the leftover of shredded mozzarella cheese.

Bake at 425F/200C for about minutes.

Enjoy your puff pastry pizza tarts.
NOTES
🍕

Make sure your puff pastry sheets come right out of the refrigerator before baking.
🍕 

Check for any leftovers in the fridge and use them for the topping. Use your imagination.
🍕

 Save your pizza tarts for up to 3 days in an airtight container in the fridge. When freezing them, first freeze them on a baking sheet and place the in the container or plastic bag when they are already frozen and solid. 
🍕 

Do not use any additional sauce toppings like tomato sauce, if the puff pastry will be too moist, it won't rise while baking and become fluffy and crunchy. 
🍕 

When using frozen puff pastry dough, it's best to thaw it overnight in the fridge.
🍕 

Freeze and thaw your puff pastry pizza bites only once. 
🍕

The longer premade puff pastry sheets are stored in the fridge, the better they taste.  Still, be mindful of the expiry date on the package. 
Nutrition