Have you ever tried those delicious, mouth-watering cottage cheese rolls that you just can't stop eating? Even the smell from the kitchen while baking these yummy little babies will obsess you.
The original recipe comes from the Balkans; people have been making cheese with this recipe for ages, and still today, this recipe is winning the hearts and taste buds of everyone who ever tried them.
These cottage cheese rolls made by this recipe stand out for their richness in butter, setting them apart from other recipes..
Crunchy when baked but perfectly melting in your mouth and calling for more.
Jump to Recipe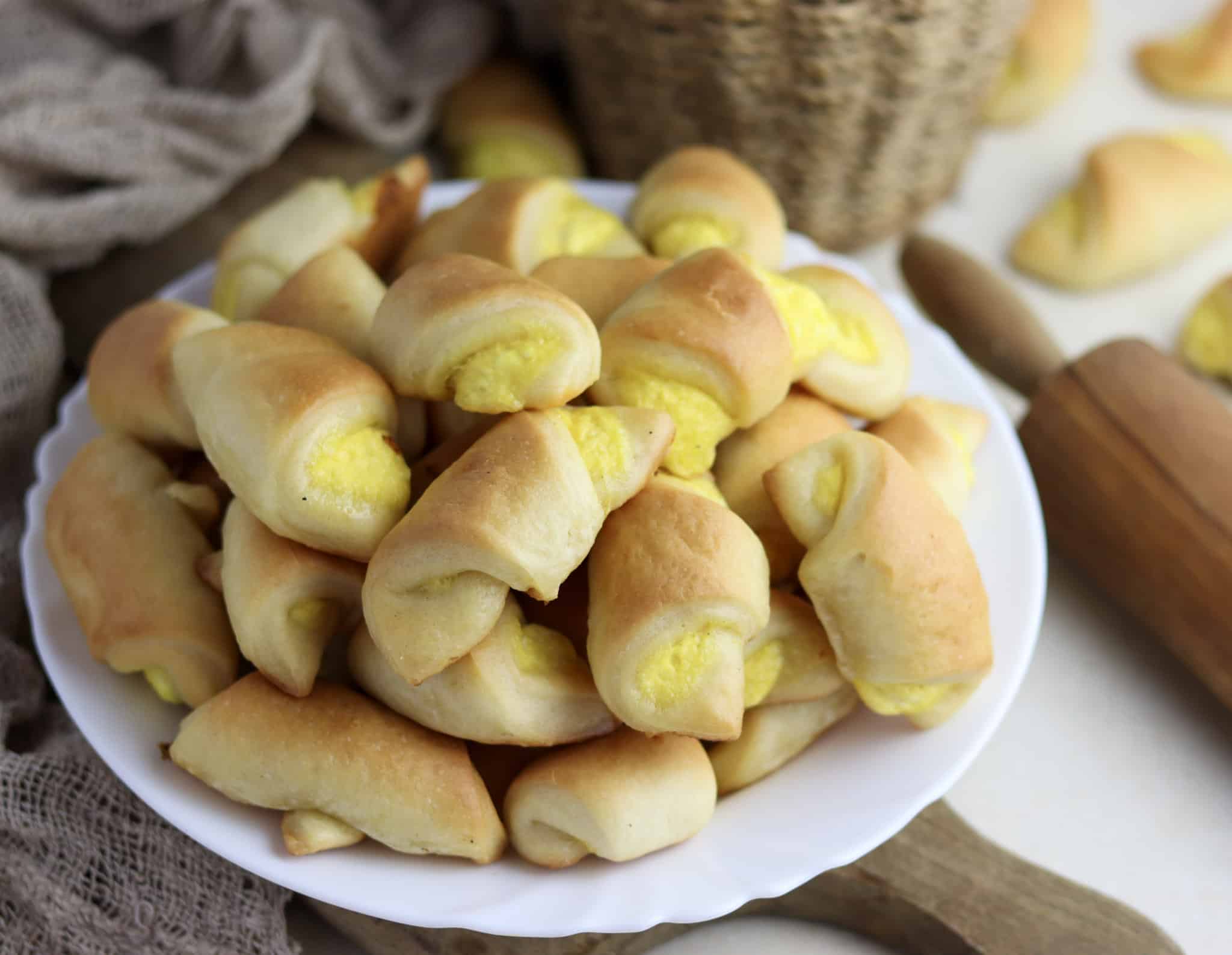 What you'll love about cottage cheese rolls
The most magical smell in the kitchen comes from the mouth-watering crescent rolls baking in the oven. These cheese rolls are easy to make and so delicious that you'll want to try making them again and again!
If you wish, add pieces of ham to beneath the fresh cottage cheese, which will made them taste even better.
Moreover, you can fill them with something sweet, like Nutella or plum jam; even if making them without any filling these rolls will still taste like heaven.
Pairing these yummy rolls with a cold beer creates an ideal snack or appetizer. Alternatively, enjoying them with a glass of milk makes for a satisfying breakfast.
Ingredients you'll need
FLOUR – the recipe is made with all purpose flour, but you can easily replace it with wholemeal flour if you want a healthy version of ham and cottage cheese crescent rolls
BUTTER – the butter will give the rolls the mouth-watering buttery taste, so don't skip it or reduce it. You will not add it to the dough, but only between the rolls while baking them.
COTTAGE CHEESE – if you can buy fresh cottage cheese from the local market, the taste of the homemade cheese really makes a difference.
The traditional recipe typically calls for equal parts cheese and kajmak or clotted cream made from milk. However, if you don't have access to homemade versions of these ingredients, there's no need to worry. Simply using cottage cheese from the supermarket will still result in flavorful and cheesy rolls.
EGGS – Using eggs in the filling will help it stay intact during the baking process in the oven.
HAM (optional) – any ham will do the job; you can use homemade smoked ham or pizza ham from the supermarket. Suggestion: use what you got in the fridge.
OIL – the dough is made with sunflower oil, giving the cheese rolls that nice crunchiness when baked.
MILK – milk in the dough will make these babies even more buttery and sweet.
YEAST – In the recipe, we utilized dry yeast, but if you prefer, the dough can be improved by using fresh yeast combined with warm milk and a small amount of sugar, which will cause it to rise even more effectively.ore effectively.
SALT & SUGAR – In my experience, a small amount of sugar blends well with the other ingredients, particularly when combined with butter.ined with butter.
Equipment you'll need
How to make cottage cheese rolls
PREPARE THE DOUGH
STEP 1: Warm the milk to a little more than room temperature. In a bowl, mix together flour and dry yeast. In another bowl, mix the warm milk, oil and sugar.
Add the flour to the bowl with milk and add two teaspoons of salt. Mix well together with a spoon till getting a firm form of dough.
Transfer the dough onto a clean surface that has been sprinkled with some wheat flour. Knead the dough until it becomes soft and elastic. It is important to knead the dough thoroughly for optimal results.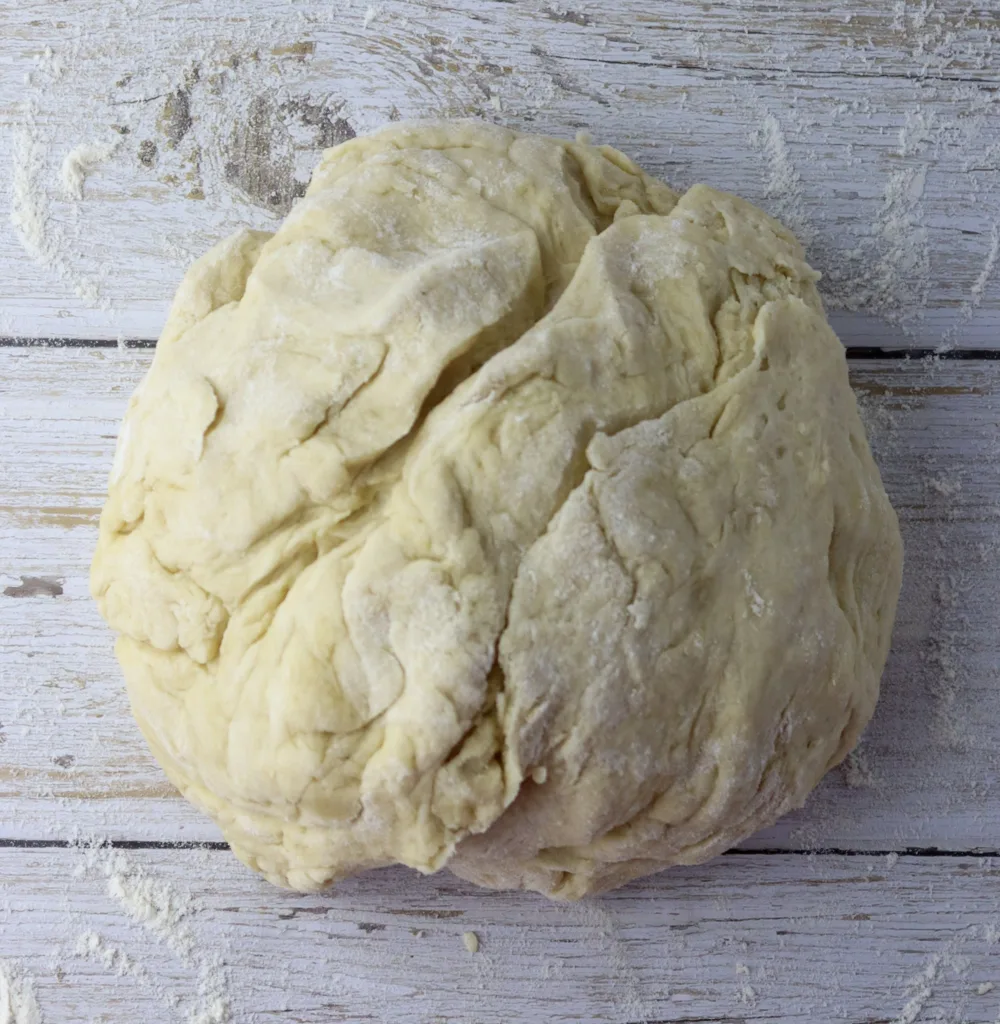 Place the dough in a clean bowl and sprinkle with flour. Cover the dough with a plastic cover and a clean towel or sheet and let it rest in a warm place to rise. It takes about an hour to double in size.
STEP 2: Preheat the oven to 350 F or 180 C.
PREPARE THE FILLING
STEP 3: Cut the ham into small pieces.
In a small bowl, mix together the cottage cheese, eggs and salt. You can add another seasoning to your taste, like black pepper or parsley.
FORM THE CHEESE ROLLS
STEP 4: When the dough has risen enough, take it out and evenly place it on a clean surface. Divide the dough into three same-sized dough balls.
Take one of the three balls and divide it into four same-sided pieces.
From each of the four pieces, make another, smaller ball and roll it out into a circle approximately 5 mm thick and 14-inch diameter.
Using a pizza cutter, divide each circle into eight same-sized pieces.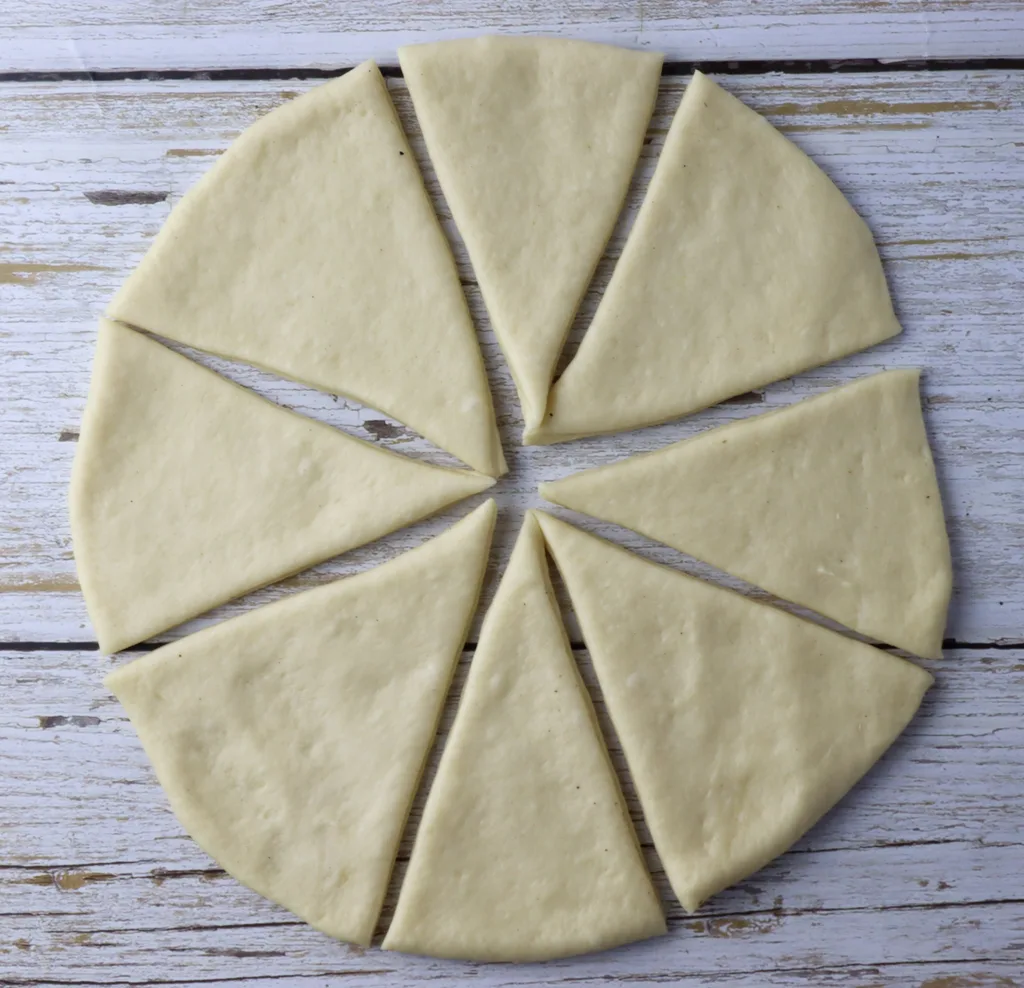 STEP 5: If you like your cheese rolls with ham, place a small piece of ham on each piece of the dough. Top it with 1/3 teaspoon of cottage cheese and egg mixture on the broader part of each piece of the dough.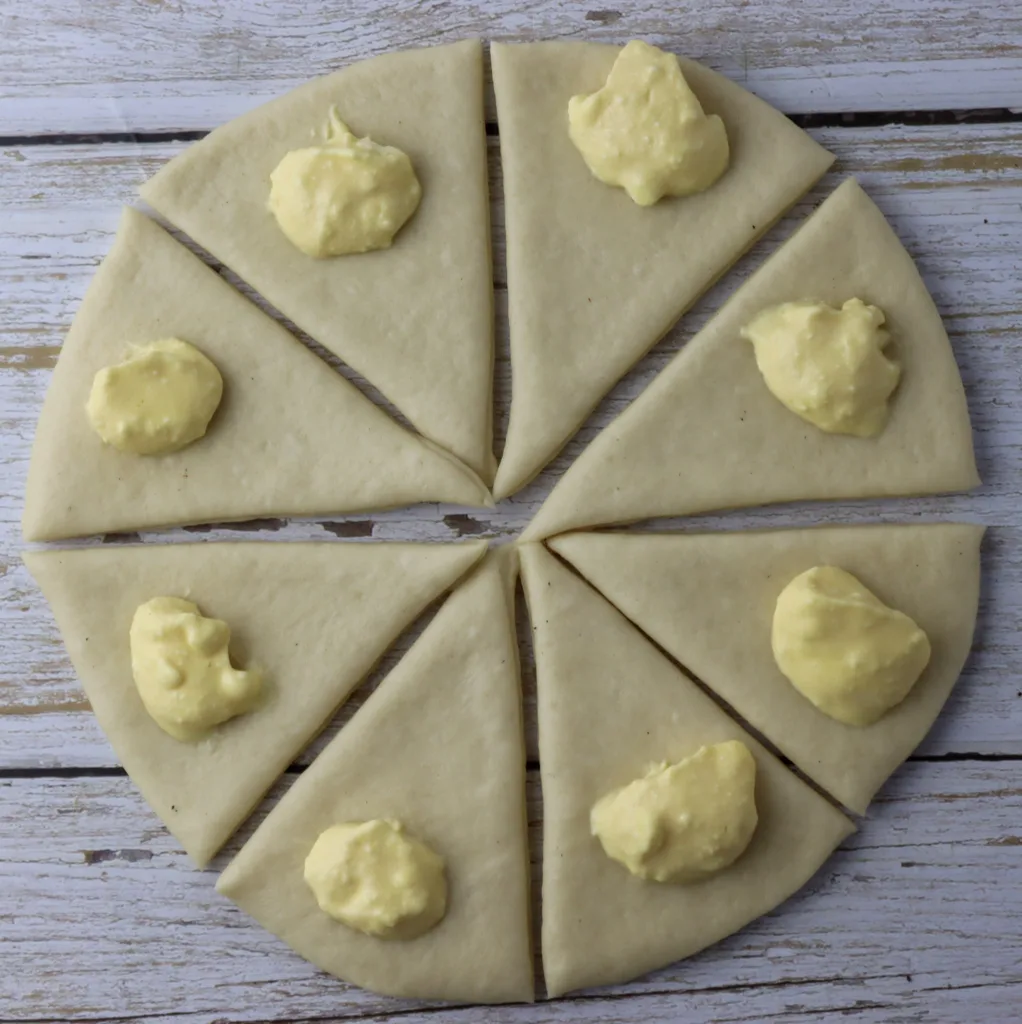 Now roll each piece of the dough from the wider part to form a crescent roll.
Line a baking sheet with parchment paper and arrange the cheese rolls on the sheet. Prior to baking, add pieces of butter (1/3 of the total volume) onto each sheet.
BAKING CHEESE ROLLS
STEP 6: Bake the rolls at 350 F or 180 C for about 15-20 minutes until they get a golden color.
In the meantime, while one sheet of rolls is baking in the oven, repeat the procedure and prepare another sheet of rolls for baking using the second third of the dough.
You should get one sheet of cottage cheese crescent rolls from each third of the dough.
Tips for delicious cottage cheese rolls
If you want your cottage cheese rolls to be more prominent in size or rolled around more times, make bigger dough discs that you can divide into longer pieces. Ensure you don't make them too big, as that would considerably change the baking time.
When making the cottage cheese rolls dough, make sure that the kitchen is warm and that there is no draught; otherwise, the dough won't rise as it should.
Some ovens with a ventilator can be too hot; turn the ventilator off while baking the rolls for best results.
Try to be relatively quick to prepare another sheet of rolls while one is baking in the oven. The dough will rise again quickly, and they bake for only about 15-20 minutes.
Cottage cheese rolls taste absolutely the best while they are still hot.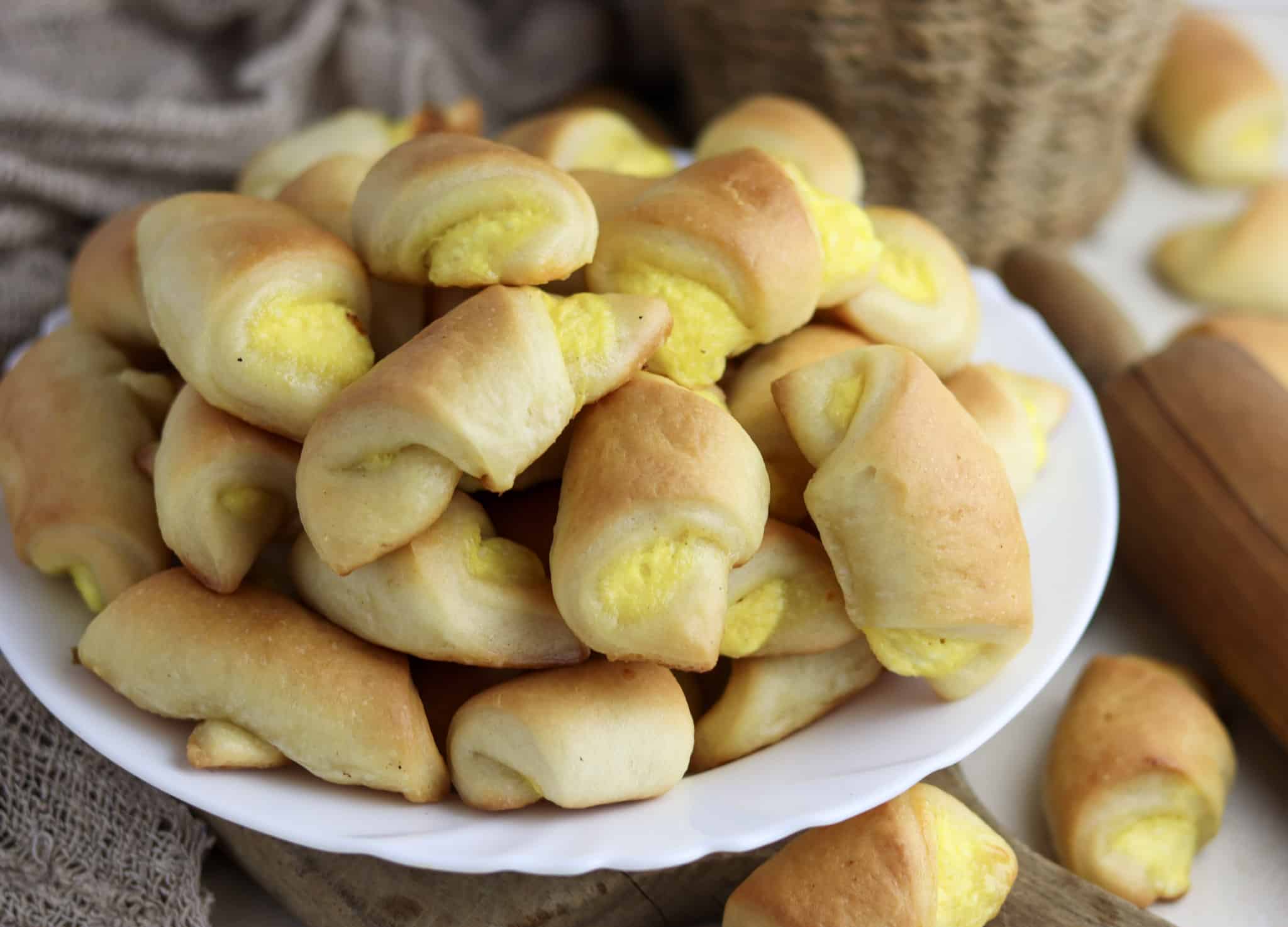 Storing and reheating
These tasty cottage cheese rolls can be stored in an airtight container for up to 3 days or maybe even a day more in the fridge.
But. They are so delicious and so tasty when freshly baked that storing them for more than a day will be almost impossible.
Cheese rolls can be frozen for up to a month in a plastic bag or an airtight container.
Thawing them at room temperature and reheating them in the oven or microwave before serving will return the heavenly smell to your kitchen and unforgettable taste to your table.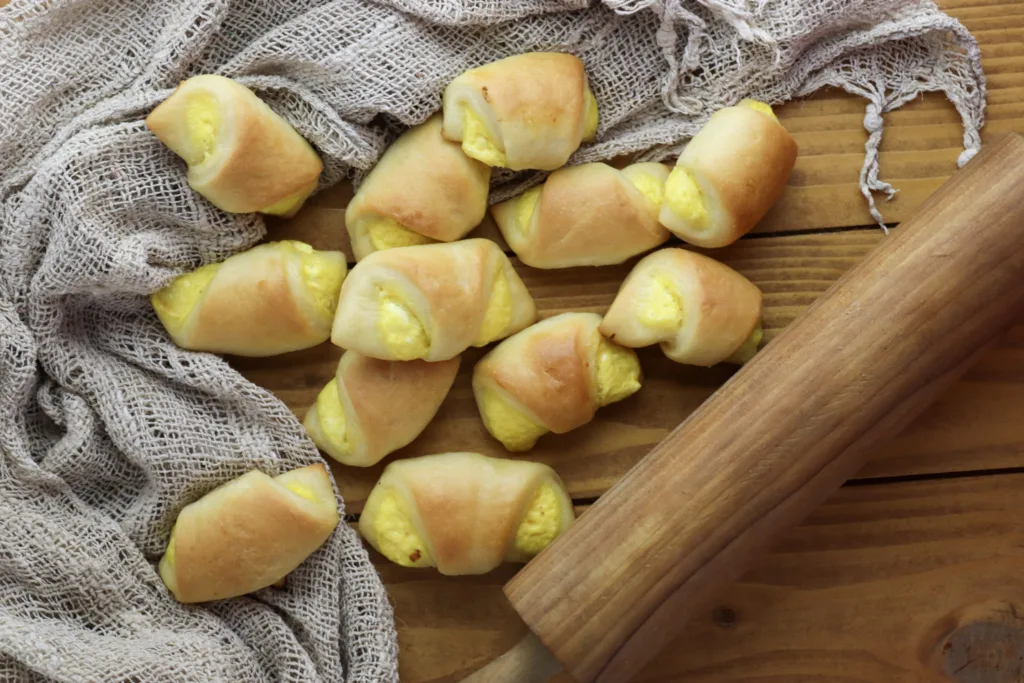 Cottage cheese rolls FAQs
Can I freeze cottage cheese rolls before baking?
Yes, you can freeze the dough raw. We suggest you make the cheese rolls, and freeze them placed on a baking sheet. After that, store them in the freezer in an airtight plastic bag or container.
Whenever you wish to use them, prepare a baking sheet covered with parchment paper, thaw them at room temperature and let them rise before baking.
What's the difference between cheese rolls and croissants?
Cheese rolls are made with yeast, similar to bread dough, while croissants are made from several layers of preferably fridge-cooled buttery dough which doesn't need to rest before baking,
Can I make cottage cheese rolls filling without eggs?
Yes, just make sure you choose the filling that won't completely melt when baking. You can use any of the vegetarian substitutions instead of cheese; these rolls taste great when made with jam, marmalade, or Nutella.
Can I make sweet cottage cheese rolls?
Yes, skip the ham and add some raisins or cinnamon to the cottage cheese filling. They taste perfect with chocolate and walnut filling too.
What is the best cottage cheese for these rolls?
Cottage cheese rolls will taste best when prepared with homemade cottage cheese. You can make your homemade cottage cheese yourself or look for it on specialized markets.
How can I know if cottage cheese is spoiled?
To determine if cottage cheese is spoiled, be careful about these signs:
Expiration date: Always check the "best by" date on the package; if the date has passed, don't use it for cooking or and don't consume it.
Mold signs: Discard if you notice mold or any unusual discoloration.
Strange smell: A sour or rancid odor indicates the cottage cheese is spoiled.
Changed texture: Avoid if it feels slimy or curdled.
Taste test: If it tastes sour or unpleasant, don't use it and don't eat it.
Separated liquid: Some separation is normal, but excessive liquid or slimy curds suggest that the cottage cheese is spoiled.
Can I use ricotta instead of cottage cheese for cheese rolls?
Yes, while the two cheeses have different textures and flavors, they are both suitable when making cheese rolls. Keep in mind that ricotta cheese has a milder and slightly sweeter flavor compared to cottage cheese.
Where can I buy cottage cheese rolls?
Cottage cheese rolls are most often homemade, but you can also find them in some specialty bakeries or cafes that offer a variety of baked goods. A good idea is to check using online restaurant review platforms that also have delivery services.
Food nutter's recipes you might like
Simple fruit tarts with puff pastry
Share by Email
Cottage cheese rolls
Crispy, buttery and mouth watering cottage cheese rolls made by an old traditional recipe.
EQUIPMENT
wooden rolling pin

(or use an empty bottle instead)

pizza cutter wheel

(if you don't have one use a knife)

2 baking sheets

1 sheet of parchment paper
INGREDIENTS
8

cups

of flour

2

cups

cottage cheese

1/3

cup

oil

2

eggs

2

cups

pizza ham

2

tbsp

salt

3

tbsp

sugar

2.5

tsp

instant/active dried yeast
INSTRUCTIONS
Mix the dry ingredients in a bowl (flour, yeast and sugar).

Warm the milk and mix it in another bowl with oil and salt. Add the dry ingredients to the bowl and mix until getting a form of dough.

Sprinkle some flour on a clean working surface and transfer the dough. Knead the dough until the dough become soft and elastic.

Place the dough in a bowl sprinkled with some flour, cover it with a plastic wrap and a clean cloth or towel and let it rest in a warm place until it rise to the edge of the bowl.

Preheat the oven to 350 F or 180 C

While the dough is resting, cut the pizza ham into small pieces and mix the eggs with cheese, adding some salt and seasoning to taste.

Separate with a knife the dough into 3 same-sized pieces.

Cut each of the piece into 4 separate same-sized pieces.

From each of the four pieces make a ball and roll it out into a circle approximately 5 mm thick and 14-inch diameter.

Divide each dough circle into 8 same-sized triangles.

Fill the triangles with a piece of ham and 1/3 tbsp of cheese mixture.

Roll the wider part of the each triangle to form a crescent rolls.

When filling up the whole baking sheet, bake the rolls at 350 F or 180 C for 15-20 minutes till you notice a nice, golden color.

While one sheet is baking, prepare another sheet of cottage cheese rolls.

Enjoy! Cottage cheese rolls taste best when served hot.
NOTES
 If you want your cheese rolls to be bigger, cut wider circles of the dough which will enable the triangles to be longer. You'll be able to roll it around more times. 
There should be no draught in the kitchen while the dough is rising. 
 For best results, turn off the ventilator in the oven while baking. 
Always prepare one 1/3 of the dough at a time; while one sheet of cottage cheese rolls is baking, prepare another one from the rest of the dough. The recipe is made for three sheets of cottage cheese rolls. 
Serve your cheese rolls while still hot; they taste best when coming right out of the oven. 
Nutrition